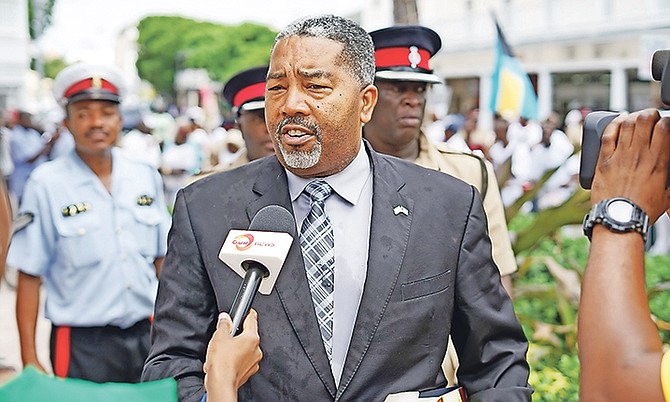 By AVA TURNQUEST
Tribune Chief Reporter
aturnquest@tribunemedia.net
SOCIAL Services Minister Frankie Campbell yesterday dodged questions from the media over his ministry's efforts to address the six percent increase in rapes last year.
Outside Cabinet, Mr Campbell rebuffed further inquiry from reporters, insisting the alarming trend was not under his remit, going so far as to push their microphones away.
"Someone told me earlier this year that of the 12 months in the year," Mr Campbell said, "spend the first six months of the year minding my business and the next six months staying out of other people business and I'll be fine.
"Don't ask me about rapes," he continued. "Try to keep me out of other people's things. I like to talk about myself, don't ask me about rapes."
When pressed further, Mr Campbell said: "You're talking about crime prevention.
"Social services is about poor people who need food, people who need social assistance. Let's talk about that."
He added: "You could see I'm trying to avoid that, I don't avoid talking to you but I want to stay in my lane."
The subject of sexual assault, particularly marital rape, has been a controversial one for this administration with the former Social Services Minister Lanisha Rolle coming under fire after she said spousal rape was a "private" matter.
Last month, attorney Marion Bethel said the 12 percent hike in reported rapes from 49 cases in 2017 to 55 cases in 2018, indicated the government's failure to take the matter seriously.
Ms Bethel, who currently serves on the United Nations Committee on the Elimination of Violence Against Women (CEDAW), stressed the issue was not simply a police matter but an "overall government social problem" that required a multi-sector approach. She noted the government is obligated under the CEDAW convention to prevent rape.
In a later interview, Mr Campbell acknowledged his administration's CEDAW obligation, as well as his ministry's inter-sectional role; however, he maintained it was not his place to respond to questions put to him by reporters yesterday morning.
"I said to them I don't want to speak on rape results," he told The Tribune, "crime and crime prevention issues. If you want to speak to me about social assistance sure, but try not to (lure) me into other areas.
"We've had sufficient issues where one minister is impinging on another minister or two ministers on the same issue are saying different things."
He pointed to an interview conducted at the recent Junkanoo parade, in which both he and Carl Bethel were asked about the government's track to criminalise marital rape via amendments to the Sexual Offences Act in separate interviews.
"My aim and objective is to where possible allow a minister responsible for his area to address his matter," Mr Campbell told The Tribune.
"As an aspiring politician, I'm conscious to avoid controversy where I can because I'm aware there are people who are looking for it.
"I've always been frank and forthright," he continued, "all I said to them was allow me to speak to the core functions of my ministry. If they want to take it out of context that's them.
"It's not for a lack of sensitivity or not being concerned about the issue but I believe if we are talking about crime and crime prevention (national security). If you're talking about the support system afterwards, sensitising for the question of empowerment that's me."