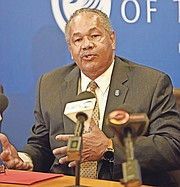 THE union representing lecturers at the University of The Bahamas has hit out at the institution's president Rodney Smith, who blamed late submission of grades by faculty as one of the reasons for long registration lines earlier this month.
The Union of Tertiary Educators of the Bahamas (UTEB) said it "is gravely concerned" about Dr Smith's remarks, claiming the university's new data management system was introduced without proper employee training, which led to teachers not being able to access the system to input grades.
In a statement released yesterday, UTEB said Dr Smith failed to acknowledge the challenges plaguing the system's implementation.
For two days earlier this month, hundreds of angry UB students suffered under the sweltering sun as they queued for hours in an effort to submit payments and complete registration for the spring semester.
At the time, Dr Smith said increased enrolment, students seeking deferred payment plans and teachers submitting grades late contributed to long registration lines and mass confusion at the institution.
"After careful investigation into the matter UTEB would like the general public to be fully aware of the real issues," the union noted in its statement.
"UB recently introduced a new academic and financial data management system called Banner. The system was introduced without provision of adequate employee training. In addition, the trial period was too short and issues within the system were not resolved prior to roll out. These included faculty not being able to access the system to put in grades, students' transcripts not reflecting courses completed, lack of access to register new students and billing errors.
"The president is well aware of the myriad problems that UB has been experiencing with this new system. In spite of this, he has frequently heralded it as one of the major upgrades of the university. UTEB is very disappointed that during the entire Banner roll out process, there has been a lack of involvement of experts in the field that exist within the faculty branch of the university. Notwithstanding the existence of computer information systems programmers at the university and a cadre of talented professionals both full time and adjunct, the university is yet to engage their services or seek their involvement in addressing the problems which continue to arise with use of this Banner system.
"What Dr Smith failed to acknowledge is that the new Banner system implementation and roll out has been plagued with challenges including unplanned deregistration of 300 students during the beginning of the Fall 2018 semester (and) failure to attach teaching faculty to their assigned classes in a timely manner, resulting in them not being able to interact online with students or access students in the system even up to the final examination period."
UTEB said during the two days of confusion, students suffered in the hot sun "without access to seating or water" and "there was no leadership shown by the senior administration" of UB.
UTEB also said: "The preparation made by their team was inadequate. Staffing levels were inadequate. Organisation of activities was poor."
The union said rather than blame faculty, Dr Smith "ought to examine his inner-circle style of management and be more inclusive of his faculty who appear to only exist on the fringes of his visioning."
The statement continued: "While Dr Smith continues to talk inclusion and collaboration, he practices separation and a mantra of divide and conquer. This approach is disruptive and non-sustainable."