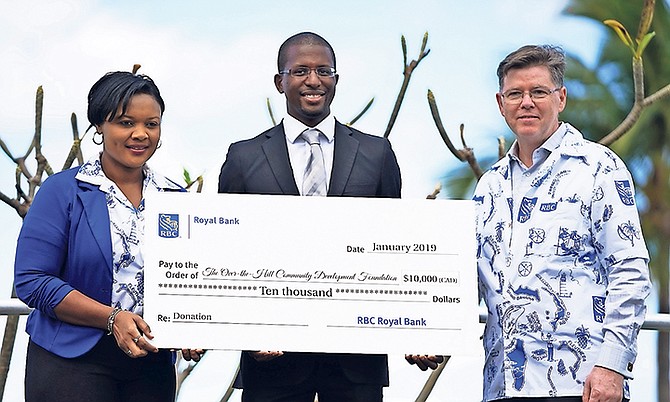 By RIEL MAJOR
PRIME Minister Dr Hubert Minnis accepted a donation of $10,000 yesterday from Royal Bank of Canada on behalf of the Over-the-Hill Community Development Foundation.
At a press conference at the Hilton, Dr Minnis highlighted the importance of the Over-the-Hill community and thanked RBC for the "special" donation.
Dr Minnis said: "Over-the-Hill is historically and culturally a part of the heart of New Providence. I wish to thank the Royal Bank of Canada for this special donation of $10,000 for the Over-the-Hill Community Development Foundation. The donation is the forerunner to a larger donation that will be made over the course of approximately the next six months.
"The initial $10,000 came from a collection taken from RBC employees who wanted to contribute to a local outreach programme. The donation will be earmarked for the green technology components for the Over-the-Hill revitalisation programme. I also thank Nathaniel Beneby, RBC's managing director for the Bahamas, for the leadership of the bank's corporate citizenship initiative."
Robert Turnquest, chairman of the foundation, said the organisation aims to bring a lasting and tangible impact to the historic community and its people.

Mr Turnquest said: "The foundation is a newly established nonprofit organisation committed to the social and economic development of the inner-city area known as Over-the-Hill. Countless Bahamian families who contributed to our country's national development proudly hailed from the Over-the-Hill area and today we inspire to foster an environment in which many more can live and work safely, happily, and prosperously.
"The foundation structure is an important component of bringing forward this vision. It affords us the ability to make the enhancement of the Over-the-Hill community a participatory and collaborative venture.
"We hope that individuals, companies and organisations domestically and internationally will be inspired to contribute to the revitalisation of the area and experience a sense of fulfillment and seeing their contributions put to good use."
LaSonya Missick, area vice-president of retail banking at RBC, spoke on behalf of the bank. She said the entity's aim is to help communities in the Bahamas to prosper.
Ms Missick said: "A key project as you heard that is currently underway is call the Over-the-Hill community development initiative and through this initiative, government and private sectors have partnered to come together to help one of the most disadvantaged communities in the Bahamas.
"We are focused on helping them thrive and succeed and provide benefits to the residents now and in the future. With the focus on improving infrastructure, reducing crime and building new technologies, this initiative will help create a brighter future for thousands of Bahamians who call the over the hill community home."