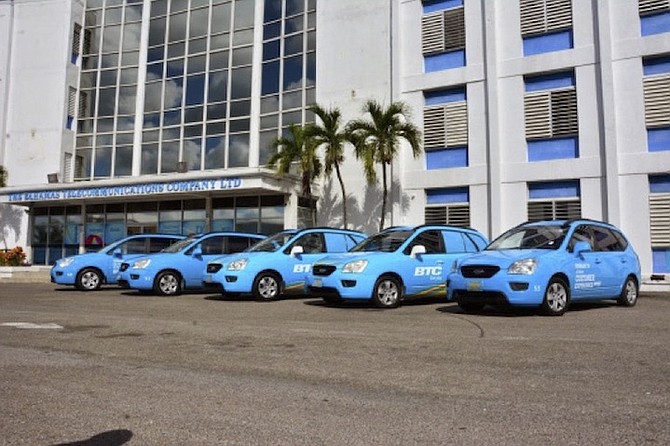 By NEIL HARTNELL
Tribune Business Editor
nhartnell@tribunemedia.net
The Bahamas Telecommunications Company's (BTC) top executive yesterday said it needs "to act like the market leader it is", while warning that mobile subscriber losses must "bottom out" in 2019.
Garfield "Garry" Sinclair told Tribune Business that BTC was in danger of forgetting it still held 70 percent mobile market customer share, and 72-73 percent of the sector's value, by becoming obsessed with Aliv continuing to steal subscribers from it.
But, conceding that BTC could not allow its mobile customer base to erode forever, Mr Sinclair said the communications provider had to "create some type of inflexion point" this year where it first stopped, then reversed, the bleeding.
Disclosing that he was "seeing some green shoots", and signs that BTC was making progress in achieving this goal, he revealed that "Black Friday" in late November 2018 had seemingly marked the start of its fightback.
Mr Sinclair said BTC had enjoyed "net growth" in mobile subscribers ever since apart from last Sunday, when it suffered a 300 customer churn, but he added that the carrier "got them all back" on the Monday.
BTC is now focusing on customer base management, in particular its higher-yielding, higher margin postpaid and corporate clients, to ensure it retains them through product and service value propositions that are highly competitive with its upstart rival.
Mr Sinclair added, though, that BTC was "not going to play the subsidy game" with Aliv, which he said was subsidising handset costs in a bid to attract subscribers to its network. Pledging a "laser-like focus" on customer experience, he added that BTC's well-recognised, long-standing brand identity have him a major strength on which to build.
The BTC chief also suggested that the extra five-and-a-half year wait for mobile competition to kick-in following the 2011 privatisation had done BTC no favours, as the retention of a monopoly that accounted for two-thirds of its revenues meant there was little incentive for the company's internal culture to change.
And he conceded that the constant "chopping and changing" of chief executives, himself being the fourth person to hold the post since privatisation, together with frequent management and strategy overhauls at BTC's controlling shareholder, Cable & Wireless Communications (CWC), had deprived the company of much-needed continuity.
BTC has lost around one-third of the mobile market since its monopoly ended in November 2016, and Mr Sinclair told Tribune Business: "We've got to bottom that out this year. We've got to create that key inflexion point in the business; we can't continue to lose lose subscribers. We have to draw a line in the sand."
Suggesting that the "Black Friday" shopping weekend may have marked this point, he said this was when BTC "stopped losing subscribers" and seemingly flipped the "churn" experienced over the past two-plus years.
"We've been net growing and net adding subscribers ever since," Mr Sinclair added. "Sunday was the only day when we suffered a net churn of subscribers, and we got them all back on the Monday.
"That's the kind of KPI (key performance indicator) and top target that we're going to focus on to reassert our market leadership again. A competitive environment is not a bad thing; we just have to do it a bit more effectively than we have been."
Addressing the Bahamas Business Outlook conference earlier, BTC's chief executive said the carrier - now ultimately owned by Liberty Latin America (LiLAC) - needed to develop a clear vision and restore trust with consumers, shareholders and the wider public through "over delivering" on its promises.
"We need a clear vision as to where we need to be as a business," Mr Sinclair said, "and need to execute. We need to restore the trust of the public and stakeholders by over delivering on what we promise.
"We're getting our swagger back, and acting like the market leader we are and customers expect us to be. I'm pleased to say we're seeing some green shoots from that."
Mr Sinclair told Tribune Business that BTC, having long grown accustomed to having the mobile market "all to itself", had immediately become unnerved when Aliv immediately started to eat into its market share - something that has happened to such monopolies all over the world.
"We don't take competition lightly, but have to get back up to acting like the market leader," he said. "We still gave 70 percent of the market, and 72-73 percent of the value of the mobile market.
"We're still the market leader and not acting like it. We've got down on ourselves. You lose sight of the fact you're the market leader and need to start acting like it. We've got to get everyone to recognise it. We're still by and far the major player."
Rather than become obsessed by winning back customers who have defected to Aliv, Mr Sinclair said BTC was "taking a very hard look" at its remaining subscriber base and segmenting it in terms of client value in an effort to ensure "no more leave".
Promising a "laser-like focus on the customer experience", Mr Sinclair said BTC planned to "put them at the centre of every new proposition we want to create so we deliver everything they say they want" and show it is listening to their feedback.
"Those who have left are largely lower value pre-paid subscribers, and the competitor continues to throw cash at the handset subsidy approach to taking customers," he told told Tribune Business.
With 8,000 mobile devices sold between BTC and Aliv every month, Mr Sinclair pledged that the carrier would still provide "the best deal" available to prevent further pre-paid subscriber defections "but are not going to play the subsidy game at the level of the competitor as they're trying to buy subscribers to fill their customer base."
LiLAC's latest financial results, for the three months to end-September 2018, revealed that BTC lost another12,400 customers during that period. The rate of mobile subscriber loss, though, fell by 36.8 percent year-over-year, although it represented a 2,000 customer increase on the 10,400 subscribers who deserted BTC during the 2018 second quarter.
BTC's 12,400 third quarter subscriber loss was driven by the departure of 11,700 pre-paid customers, although just 700 of the higher margin, higher-yielding post-paid customers departed the network. It was shown to have 228,300 total subscribers at end-September 2018, with 89 percent of 203,000 of that client base concentrated in pre-paid customers.
Mr Sinclair, meanwhile, said the protracted mobile liberalisation process had exacerbated delays in BTC adjusting to a competitive environment. "I think it was a byproduct of a recently liberalised business coming out of an environment where we were a monopoly," he added.
"Customers were not exactly at the centre of what we did, both internally and externally, and a lot of the challenge is getting everybody - colleagues, union representatives, the Government, shareholders and the public at large - aware of this transformation process we're in. It's going to take time."
The lack of management stability had a similar effect, Mr Sinclair agreeing: "It's tough to create that customer culture when culture is a leadership issue. It's tough to create a winning culture, a culture of high performance, when you're chopping and changing at the leadership level."