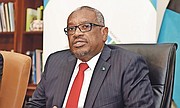 By NATARIO McKENZIE
Tribune Business Reporter
nmckenzie@tribunemedia.net
THE Government has approved some $3.7bn in foreign direct investment (FDI) projects since taking office in mid-2017, the prime minister said yesterday.
Addressing the Bahamas Business Outlook conference, Dr Hubert Minnis said: "Since mid-2017, our government has approved an estimated $3.7bn of foreign investment projects across the country. Many of these projects, once approved, immediately contracted Bahamian firms for legal, accounting, project management, engineering, environmental, architectural, consulting and other professional services.
"This success in FDI is due in part to new, resurrected and expanded resort projects on Eleuthera, Abaco, Andros, New Providence and Grand Bahama. This success is also due in part to the increase of information communication technology (ICT) enterprises and boutique financial services investments, as companies look to make The Bahamas their regional headquarters for the Caribbean."
Dr Minnis did not identify these FDI projects or break this figure down into individual investments, but he said there was also an increase in Bahamian and foreign investor partnership agreements and large-scale Bahamian-owned resort and entertainment properties.
"This includes large-scale New Providence-based, Bahamian-owned tourism projects, such as Paradise Island Lighthouse and Beach Club, Athol Island entertainment facility, and the Heritage tourism project whose owners are a group of Bahamian businessmen," he added. "Their objective is upgrading and operating several historical sites, transforming them into major attractions for Bahamians and the international tourism market.
While noting that The Bahamas moved up one notch on the World Bank's Ease of Doing Business Ranking for 2018, standing at 118 out of 190 countries, Dr Minnis said his administration was "far from satisfied".
"We must do much better, much faster. It must become faster, quicker and cheaper to do business in The Bahamas for Bahamians and international investors," he added. "The bottlenecks and blockages in various quarters will have to change.
"We are striving to provide prompter service and less bureaucracy through some of the initiatives laid out in our most recent budget. This includes the Digital Bahamas Initiative project, which we have been working on with the IDB. This will reduce the cost of conducting business with the Government and may help to foster the country's competitiveness."
He added that various features of the Commercial Enterprises Act also improve the ease of doing business, with nine companies approved under the legislation to establish on New Providence and Grand Bahama.
"We are reviewing the details of tax reform as we address the pending requirement to implement necessary reductions in Customs duties, which are crucial in helping to bring down costs for consumers, homeowners and businesses. This may lead to higher productivity, more consumption and an overall higher standard of living," said Dr Minnis.
The Prime Minister hailed what he called "significant leaps" in the Government's fiscal affairs over the last year, and said his administration was on track to achieve the Fiscal Responsibility Act goals. These seek to achieve a fiscal deficit-to-GDP ratio of 1.8 percent by the end of this fiscal year, one percent in fiscal year 2019-2020, and 0.5 percent in fiscal year 2020-2021.

"This is also in line with our hopes to achieve debt-to-GDP ratios of 57 percent by the end of this fiscal year, 54 percent by the end of the next fiscal year, and eventually down to 52 percent by the end of the three-year period," Dr Minnis said.