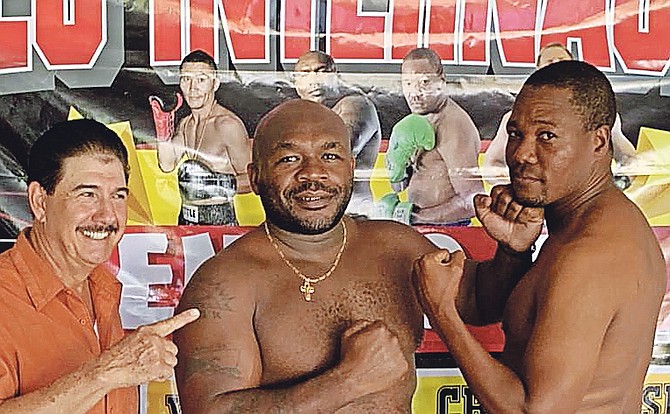 By RENALDO DORSETT
Tribune Sports Reporter
rdorsett@tribunemedia.net
Just hours away from fight night, Sherman "Tank" Williams is set to begin an active 2019 campaign on a winning note.
Williams (40-15-2, 22 KOs) is slated to face Samuel Miller (33-19, 29 KOs) in a 10-round co-main event tonight at the Miguel Lora Coliseum in Monteria, Colombia.
After completing his final preparation at his training camp, Williams arrived in Monteria yesterday and said his game plan is in place to secure the win.
"I feel pretty good. We left Cartagena last night and came to Monteria. It's a nice town, nice city, the people seem well so I'm going to perform and give them a great show. It's my first fight here in Colombia and I'm hoping it won't be my last," Williams said. "So I'm looking forward to going after Samuel Miller. I just want to apply pressure, I've been working on getting on the inside, the overhand left and right hook. If I can catch him with the overhand right it's going to be a short night. However it goes, I plan to do my best and represent the Bahamas."
Miller, 39, was selected to replace Williams' original opponent who withdrew earlier this month. The 46-year-old Grand Bahama native said that his approach remains the same irrespective of his opponent.
"I don't know much about him [Miller]. He's 6'2", he's an experienced guy with a lot of fights," Williams said.
"I'm just going to impose my will on him, I don't care what he's all about, it's just me imposing my will and hopefully this will land me into a nice title fight in April."
Williams was also nominated by the Universal Boxing Organisation to vie for the group's intercontinental title. "I think it's a privilege and honour to be nominated by UBO. I had good fights there with Joseph Parker – the WBO and WBC Asia Pacific and Chinese champion, so I'm honoured they reached out to me and want me to fight for their intercontinental title," he said.
"Hopefully we can make it happen for April, my next fight coming up in the Bahamas. So then hopefully we can build it to where I can fight the UBO Heavyweight champion Alexander Frank in Hamburg, Germany. This year is starting off pretty good, this is going to lead me to the intercontinental title and hopefully a shot at the heavyweight title."
It will be Williams' first fight since May 26 when he won a technical knockout over Epifanio Mendoza at the A Social Affair and Convention Center in his hometown of Grand Bahama.
During the Christmas break, Williams was back home where he attended the junkanoo festival and he began the groundout for the Bahamian Sons Promotional Back Yard Ramble Part II that will be staged at the Kendal Isaacs Gymnasium on April 5.
As a volunteer coach in the Police Athletic League in Florida, Williams said he will also be looking at the possibility of working with president Vincent Strachan and the Bahamas Amateur Boxing Federation to have some of the local boxers fight over there.
"I'm trying to bridge the gap and try to get the small boxing community fraternity, that once existed, alive again in the Bahamas," he said. "Those fighters who are no longer fighting, we can use them as coaches and officials. I think what Bahamian Sons and Backyard Rumble is going to do is build a platform for professionals and amateurs to fight and I'm committed to doing that in the future."
Bahamian Sons and Backyard Rumble is headed by Williams' wife, Kimberly. They are based out of Florida, but Williams said the plan is to have as many fights as possible in the Bahamas.