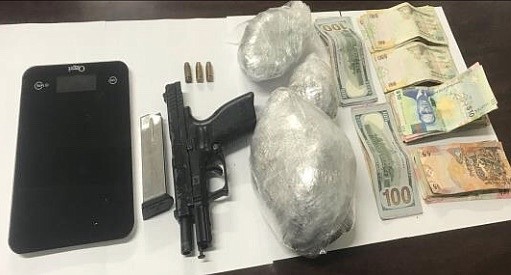 Two men are in custody after police recovered three illegal firearms and a quantity of dangerous drugs in three separate incidents on Thursday and Friday.
In the first incident, shortly after 8:30pm on Thursday, Southeastern Division Officers acting on information conducted a search of a bushy area off Gamble Heights and recovered a 9 millimetre pistol. No arrests were made and investigations are ongoing.
The second incident, shortly after 7am on Friday, saw Eleuthera Division Officers search a home at Grant Street, Harbour Island and recover three packages of suspected marijuana, weighing 1.5 lbs., a .40 pistol, three rounds of ammunition and $5,295.00 cash – suspected of being the proceeds of crime.
A resident was taken into custody and is expected to be charged next week.
In the third incident, shortly after 11pm on Friday, Anti-Gang and Firearms Officers searched a home in a Haitian community on Sea Breeze Lane and recovered an unlicensed shotgun and seven rounds of ammunition.
A man was taken into custody and is also expected to be charged next week.