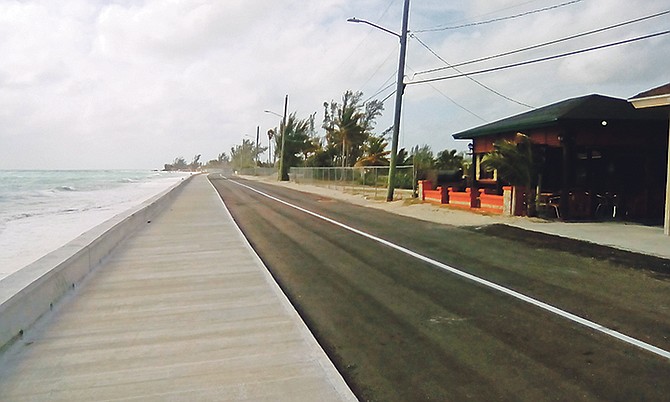 MAJOR capital work projects estimated at over $30 million on Grand Bahama are progressing well and nearing completion it was noted as Deputy Prime Minister Peter Turnquest and Minister of State for Grand Bahama Senator Kwasi Thompson, along with other parliamentarians, toured three project sites on Friday.
The tour started at Smith's Point where Waugh Construction has completed a $4.8 million seawall and road repaving project.
Also present were Parliamentary Secretary in the Ministry of Works Iram Lewis; West Grand Bahama and Bimini MP Pakesia Parker Edgecombe, parliamentary secretary for information and communications in the Office of the Prime Minister, and Senator Jasmin Darius.
The road at Smith's Point will be reopened in another two to three weeks, according to Mr Turnquest, East Grand Bahama MP, who said that the installation of the railing there still has to be completed.
"The last piece of railing should be here in a week or two, and once that is installed, we will proceed to open the road. We anticipate another two to three weeks at the most when we can open it," he said.
Mr Turnquest said that safety of his constituents, residents, and visitors is of paramount importance. "It is a pretty dramatic drop off of the seawall, and so we have to make sure we do our best to protect residents and visitors to the area," he explained.
He expressed his excitement about the seawall project and the potential of attracting economic development in that area.
"It has come out beautifully, and we believe that this infrastructure will be the impetus for further economic development in that community as well as for those who reside there and provide the protection for assets there," he said. "As you know, before the seawall construction there was tremendous erosion along the beachfront, and the road itself would have been compromised, and I think it is an essential piece of infrastructure that had to be put in place."
Mr Turnquest said that about seven years ago the residents of Smith's Point had raised the issue with him, and he raised it with officials in the Christie administration, who proceeded to put the project in motion.
Under the Christie administration, the contract was initially awarded to Smith's Construction.
"We had some problems with the contractor, and we had to make a switch," said Mr Turnquest. "Waugh Construction came in and did a fantastic job in completing the project on time and up to the quality standards that were required. Today, we have a boardwalk we are very proud of that, we think it is going to bring visitors to the area, business for the residents, and open the possibilities for other investments to happen in that community."
Mr Turnquest said that they are looking to have a mural painted on the seawall to serve as a unique attraction at Smith's Point.
"It would serve as an attraction and draw people to the area. We talk about creating natural draws to the island, so we do not have to spend as much money advertising or subsidising airlines or hotels," he said.
The next stop of the tour was at the $6.5 million Fishing Hole causeway at Hawksbill Creek.
Mr Lewis said that officials are looking at an adjusted completion date in March.
He reported that the main bridge structure is complete, and one layer of asphalt would be poured on the base of the concrete structure.
"As far as the height is concerned, based on the study we did, this is good enough to at least if we have storm surge or spring tide we will be able to pass this area. It is not going to solve all of our problems, but it will alleviate some of the problems," he explained.
Mr Lewis further explained that culverts would be installed at the lower road, which would be used as a service access road for heavy loads and in the event repairs are needed at the causeway.
"I would like to put the notion to rest that it (the lower road) would not be removed. It would remain as an access way that would be managed to avoid accidents," he explained.
Mrs Parker Edgecombe said that the new causeway would bring resolution to the flooding problem which was an ongoing concern for her constituents.
"It's been a long time coming that the residents have called for it for many years. There have been many persons from our community who have fought to see that this bridge comes to existence. We are happy that it is near completion," she said. The tour ended at the $25 million government complex site at Eight Mile Rock, where for the first time residents would be able to have access to all essential government services in one building and would no longer have to go to Freeport.
Top Notch Construction is the general contractor.
Mr Lewis said work is progressing well and they expect the project to be completed in the third quarter of 2019.
"We are pleased with the quality of work; the contractor is doing a good job, and the staff of the Ministry of Works is conducting inspections to ensure there is no code infraction," he said.
Mr Lewis indicated that the contractor has ensured that 80 percent of the workers are from the Eight Mile Rock area.