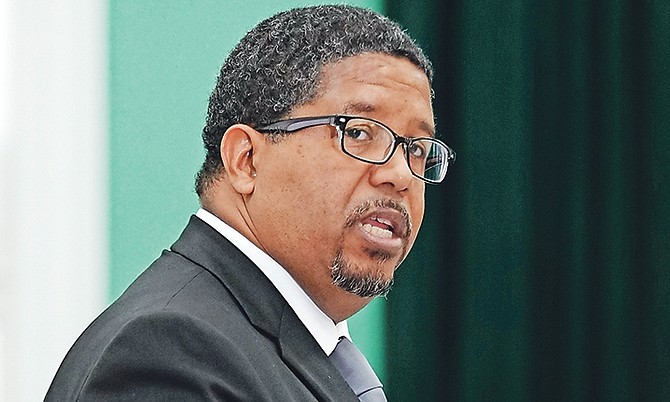 By KHRISNA RUSSELL
Deputy Chief Reporter
krussell@tribunemedia.net
THE country's unemployment rate has increased since November 2018 despite the addition of just over 2,300 jobs to the labour force.
Eight months ago, the rate was 10 percent, but as of November 2018, 10.7 percent of people continue to be unemployed.
This increase was further compounded by the fact that unemployment in New Providence also climbed from 10.1 percent to 11 percent. However, despite these grim prospects, Finance Minister K Peter Turnquest attempted to shift focus from the growth of unemployment to the 10,400 net jobs added to the economy as of November 2018 since the Minnis administration took office in 2017.
"Preliminary results from the most recent Labour Force Survey shows 2,305 net new jobs were added to the Bahamian economy between May and November 2018," the minister said in a press statement. "While these gains are noteworthy, the rate of job growth is still not adequate to absorb the number of school leavers entering the labour market each year. This accounted for a small increase in the overall unemployment rate from 10.0 percent to 10.7 percent in May of 2018.
"Notable, however, is that in the 18-month period since May of 2017 the economy added 10,400 net new jobs, largely in the private sector."
He further noted improvement to the labour force in Grand Bahama and Abaco.
"Overall, we welcome news that the unemployment rate improved in Grand Bahama and Abaco, two of the largest population centres outside of New Providence. The numbers of discouraged workers also decreased, pointing to greater confidence in economic prospects among job seekers. But, our target is a level of growth that will reduce unemployment in a sustained way, and will be felt evenly across the country, so the work must continue and intensify."
However, Progressive Liberal Party Chairman Fred Mitchell saw no good news in the latest statistics.
He said: "What a sad tale the labour statistics released and reported today tells. The fact is unemployment is worse. Things are moving in the wrong direction. Yet despite the signs and warnings the government continues to double down in their depressing menu of stop, review, cancel and cut back. The rot has set in and we urge the government to reverse course before they inflict more suffering on the Bahamian people."
Senior Statistician Cypreanna Winters and Acting Director of the department Leona Wilson released the latest statistics yesterday.
According to both officials, two of the three most populated islands that were surveyed experienced decreases in their unemployment rates while one experienced an increase.
"At the time of the survey, the rate in Grand Bahama was 11.9 percent and in Abaco 7.7 percent. On the other hand, New Providence's unemployment rate increased from 10.1 percent in May to 11.0 percent."
Employment gains were driven by private sector employees, which increased by 3.8 percent to 135,135 persons when compared with May. Additionally, the number of self-employed persons stood at 32,475, an increase of 11.9 percent since May.
Overall, 210,560 people make up the employed labour force, while the unemployed labour force consists of 25,135.
Demographically, there were fewer women employed when compared with men. Mrs Winters revealed that another study now being completed by officials showed that despite women having more credentials than their male counterparts, more of them remain without jobs.
Mrs Winters said: "Among the employed labour force, there were more men 110,280 than women 100,280. However, in all the islands surveyed except Grand Bahama, men were fewer in numbers among the unemployed labour force."
She also said: "Overall, the unemployment rate for women reached 11.3 percent in November, compared with 10.0 percent for men. Young women, those aged 15-24 and core-aged women, those aged 25 to 54, were more likely to be unemployed than their male counterparts.
"By contrast, men aged 55 years and over were slightly more likely to be unemployed when compared with women in their same age cohort."
These findings, according to officials, seem to fall in line with youth unemployment in the Caribbean.
In the Caribbean Development Bank's (CDB) most recent report, youth unemployment in the Caribbean is among the highest in the world, with the unemployment rate for those aged 15 to 24 reaching 42.7 percent.
"Similar patterns persist in the Bahamas, as youth unemployment for women was highest recorded for all age groups. The unemployment rate for young women reached 24.1 percent, compared with 22.4 percent for young men, 23.1 percent for both sexes."
The number of discouraged workers also fell by 6.7 percent in the six months to November, Mrs Winters said.
"Notably, the number of discouraged workers fell by 9.1 percent in New Providence and 9.8 percent in Grand Bahama. However, the number of discouraged workers in Abaco increased by 7.9 percent, partly offsetting the overall decline," she said.
Discouraged workers, according to the standard definition of the International Labour Organisation (ILO) are people without work and available for work, yet were not actively seeking work because they are not hopeful about their prospects of finding employment.