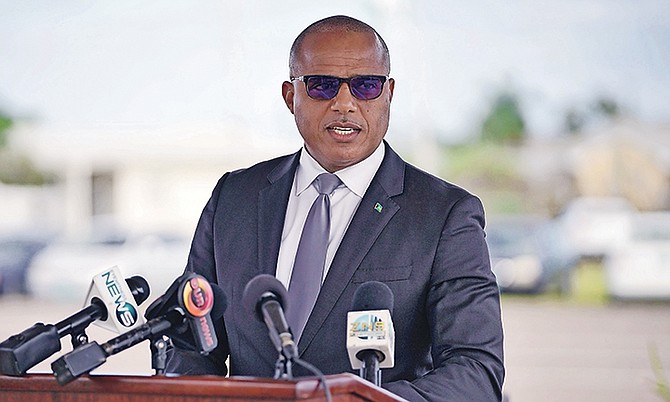 By RIEL MAJOR
NEW hires for the Ministry of National Security are on the horizon, according to Minister Marvin Dames, who forecast a ministerial revamp to accommodate new specialist areas.
"We have a document that we have been working on now for some time," Mr Dames said yesterday, "and that really lays out the makeup of a new Ministry of National Security and coming out of that we discovered we need more persons because we need to create new areas."
He was speaking on the sidelines of the ministry's first annual senior management conclave, which was staged at Island House under the theme 'building on the present, securing the future".
Mr Dames continued: "We have one area, that's research, and you would have seen that we produced the manpower audit and so we are not just hiring people for hiring. We are hiring specialists to assist us because national security is the centre of the Ministry of National Security. We have to be efficient and well structured so we can provide the support to the police force, defense force, parliamentary registrar, and the corrections department."
"We are now comfortable that we are at that place," he said.
"We have made provisions for the additional resources that we will be building out National Security, so it is all about improving our level of professionalism. At the end of the day providing the services that are needed to support our agencies and to bring relief to Bahamians everywhere."
Conclave presenters represented a diverse mix of professionals to cover a wide range of topics from Human Resources management to financial matters.
Mr Dames said: "Persons within the services as well as persons from private industry are coming to speak to you on financial matters. We have a presentation on human resource management and throughout the afternoon we look forward to hearing from each and every one of you for your plans for 2019 and how you intend to navigate the year.
"We often talk about professionalism and raising the bar and one of the things that we recognize certainly since coming to government as an office, and I want to speak specifically to the Ministry of National Security leading up to governance, there are often times that a political party would often speak about how things are not working and what we need to do to fix it.
The minister encouraged the participants to be open and transparent during the two-day event. He stressed law enforcement agencies must understand how they are viewed by members of the public.
Mr Dames said: "We intend to commence a civilization process for our law enforcement agencies because we want to get police officers on the streets. We want to get Defence Force officers on crafts, and we want correction officers overseeing inmates.
"We don't need them answering telephones or behind a desk…just uploading basic information on the computers. We need them doing the job we recruited them to do and so this is extremely important for us and so we have to understand that."