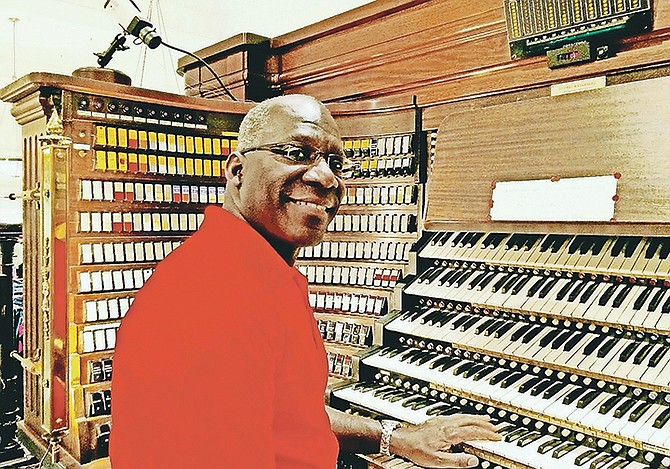 By JEFFARAH GIBSON
Tribune Features Writer
jgibson@tribunemedia.net
For 30 plus years he has produced beautiful melodies on the organ and for 20 years he has shared those tunes with audiences at his annual recital.
Dr Sparkman Ferguson is not growing weary, in fact, his passion for the craft is consistently re-energised.
This love for playing the organ will be tangible when the curtain goes up for Dr Ferguson's 20th Epiphany recital tonight at Christ Church Cathedral, George Street, beginning at 7.30pm.
The event will highlight the work of French composer Cesar Franck. German composers Johann Sebastian Bach, Sigfrid Karg-Elert and Felix Mendelssohn will also be featured.
Other music presented will be by American composers Gordon Young and David German.
"People coming should expect to be thrilled by the greatest and most artistic pipe organ in the Bahamas," Dr Ferguson told Tribune Religion.
He started as a mere Sunday school pianist at the age of 11, and without a teacher, learned his way around the organ as a teenager.
"I have basically been a church organist until age 44, then I expanded and explored recital performance. I started thinking that I would do one or two recitals. But now I am producing the 20th programme," he said.
Dr Ferguson – a dental clinician by profession – has played at the professional level since 1966, performing for the first time at a service at Bethel Baptist Church. That occasion turned into two decades of service.
During that period he was also a college student and an organist at Florida Memorial University and Memorial Temple Baptist Church in Opa-locka, Florida. He has also played for Christ Church Cathedral for the last 30 years.
Prior to 2000, Dr Ferguson did not play any recitals. His organist duties were by choice and limited to service playing.
He introduced his first solo recital in 2000 but did not really intend to make it a yearly performance. Over the years Dr Ferguson said he attempted challenging organ literature and in so doing became a dual organist (one who plays for church services and one who performs recitals).
"These two are not the same," he noted.
Dr Ferguson is keen to keep organ playing alive in the Bahamas and hopes the younger generation will express an interest in this unique instrument.