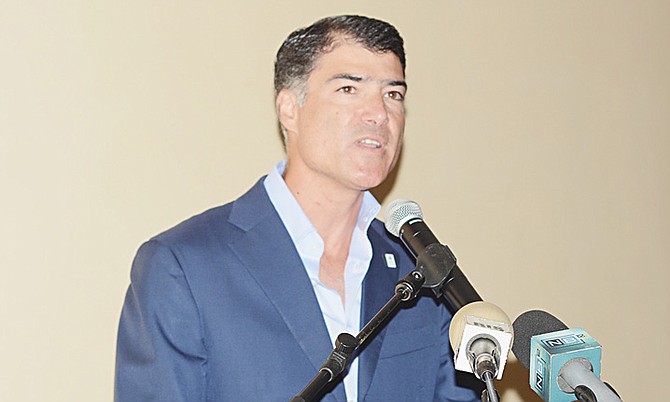 By NEIL HARTNELL
Tribune Business Editor
nhartnell@tribunemedia.net
Baha Mar's original developer was yesterday celebrating a major legal victory after a New York court upheld his $2.25bn fraud and breach of contract claim against the project's contractor.
Sarkis Izmirlian and his BML Properties vehicle successfully persuaded the New York State Supreme Court to reject China Construction America's (CCA) bid to both dismiss the fraud claim and have the case sent to arbitration.
Justice Saliann Scarpulla's ruling forces CCA to now file a formal defence to the Lyford Cay resident's allegations by February 13, 2019, while keeping the dispute before the court and thus in the public domain.
The Chinese state-owned contractor, which owns downtown Nassau's British Colonial Hilton, dislikes the publicity associated with events it is anxious to put behind it. This is revealed in transcripts filed with the New York State Supreme Court where its attorneys expressed the company's displeasure at continued coverage by Tribune Business.
Had Justice Scarpulla ruled in favour of CCA's arbitration bid, Mr Izmirlian's case would have been transferred out of the court and into mediation/dispute resolution hearings that are typically held behind closed doors and thus more private. Few to no details are made public.
The New York court's decision to prolong the legal action is also likely to be unwanted by members of the former Christie administration given the controversy that erupted when it decided to side with two Chinese state-owned entities against Mr Izmirlian in his capacity as private developer, due to the possibility of previously unknown evidence being revealed in court.
Mr Izmirlian and BML Properties, in a short statement issued last night, said the New York court had "fully sustained in its entirety" their fraud and breach of contract claims against China Construction America, now called CCA America, and its affiliates.
They added that Justice Scarpulla had rejected "both substantive and procedural attacks"on the case, and said: "In sustaining BML Properties' fraud and other claims, the New York judge quoted from a January 20, 2015, letter secretly sent by the defendants which stated that if CCA America did not correct their serious problems, the result would be 'irreversible and catastrophic loss' and 'unmeasurable damages'."
In her ruling, Justice Scarpulla noted how Mr Izmirlian and his family lost their entire $845m equity investment in Baha Mar, along with "expected future profits", after the project's secured financier, the China Export-Import Bank, took possession of the mega resort and ultimately sold it to current owner, Chow Tai Fook Enterprises (CTFE).
Recalling the dispute, which dominated Bahamian national affairs between 2015-2017, she wrote: "BML Properties alleges that CCA.... failed to advise the Board of its findings and concerns regarding the project's construction as required by both the Investors Agreement and the Master Construction Contract (MCC).
"Specifically, BML Properties alleges that defendants failed to report accurately, or at all, the true state of its scheduling, deadline compliance, the amount or experience of its workforce and status of its procurement."
The judgment recorded Mr Izmirlian's allegations that he and his management team were prevented from "effectively monitoring the project's progress and governing its finances" by CCA's failure to provide it with the necessary records and documentation.
"BML Properties contends that the accuracy of the defendants' reporting directly affected its ability to predict and protect against risks to its equity investment," Justice Scarpulla added. "Despite defendants' repeated assurances, the project's most important building, the Convention Centre, was not timely completed.
"BML Properties alleges that defendants made false representations regarding the progress and status of the project. For example, at the September 28, 2012, board meeting, in response to concerns raised by Thomas Dunlap, BML Properties' president, [Tiger] Wu represented that CCA had on site the resources (workers, senior staff, materials) to effectuate the Convention Center's completion by March 2014, and that CCA would also meet its milestones regarding several other buildings.
"BML Properties alleges that Wu lacked any support for his statements when made, and that he failed to disclose that CCA was understaffing the project, lacked internal controls and experienced staff."
Despite multiple efforts to resolve the two sides' differences and concerns, the convention centre delays were ultimately brought before the Dispute Resolution Boards created to handle any construction-related disputes at Baha Mar.
While the Dispute Resolution Board's August 13, 2014, ruling found that CCA had breached the construction contract by failing to dedicate sufficient resources to the convention centre, Mr Izmirlian's lawsuit alleges that it continued to "understaff" the project and even diverted its senior personnel - including Mr Wu and Daniel Lu - to other developments.
"Due to understaffing, CCA could not process all of the work permits for incoming Chinese workers, necessitating Baha Mar to assist at its own expense," Justice Scarpulla's ruling recorded. "Significantly, none of the milestones which CCA 'committed' to (such as the dates for power and air, elevators, structural steel roofs, and hotel completion) were in fact achieved."
Following fresh efforts to ensure Baha Mar's March 27, 2015, completion date was achieved, CCA received a $54m advance on disputed construction "change orders" prior to Mr Izmirlian and then-prime minister, Perry Christie, travelling to China in early January 2015 to obtain further assurance that this deadline would be met.
"BML Properties alleges that at the Beijing meeting, defendants knew - but did not disclose - that they did not have the resources and could not finish the project by the March 27, 2015 deadline," Justice Scarpulla wrote.
"In fact, a letter dated January 20, 2015 – 15 days after the Beijing meeting – from CCA to Yi, the chairman of China State Construction, requested additional workers and stated that 'the professional subcontractors failed to provide sufficient workforce in time' which 'will directly impact the target of opening on 27 March, 2015'.
"The January letter also stated that if the situation is not turned around, the result will be 'irreversible and catastrophic loss' and '[n]ot only will there be a daily delay penalty of $250,000, unmeasurable damages to the brand and reputation of CSCEC will also be caused."
Unaware of this letter, and relying on CCA's assurances that Baha Mar would be completed by March 27, Mr Izmirlian and his management team drew $20m from the project's credit facility; hired an extra 2,070 workers; and began taking reservations.
This all proved in vain, with Justice Scarpulla's judgment revealing: "On March 25, 2015, Reiss Engineering (the deputy inspector for the Ministry of Works, Government of The Bahamas), issued a letter to Baha Mar advising that CCA did not complete the project and could not even qualify for Temporary Certificates of Occupancy (TCOs), which the Government requires before any hotel room can be occupied by guests."
With the March 27, 2015, deadline missed, and the two sides further apart than ever, Mr Izmirlian filed for Chapter 11 bankruptcy protection at end-June 2015. This was ultimately dismissed to be followed by Baha Mar being placed into liquidation and receivership, from where the China Export-Import Bank and its agents ensured its ultimate sale to CTFE.
"Consequently, BML Properties lost its entire investment in Baha Mar, or approximately $845m, as well as its expected future profits from the resort," the New York court noted.
Seeking to knock Mr Izmirlian's lawsuit out at the first hurdle, CCA argued that it was not bound to New York as the legal venue for resolving disputes because the investors agreement with BML Properties was signed by its parent, China State Construction Engineering Corporation (CSCEC), and not itself.
However, Mr Izmirlian's attorneys argued that CCA was bound by the agreement as a "successor" to its parent, and because it performed all obligations under the contract. The deal was also negotiated by CCA personnel.
"The facts alleged provide a sufficient basis for me to conclude that BML Properties may, at this point, invoke the forum selection clause in the Investors Agreement against CCA," Justice Scarpulla ruled.
She also rejected the Chinese contractor's argument that Mr Izmirlian and BML Properties could not bring "direct claims for a loss in the value of [their] equity investment as the loss simply reflects damages incurred by the company (Baha Mar)".
Justice Scarpulla, though, said an action could be brought where one shareholder suffered a disproportionate loss in comparison to others. A CCA affiliate held $150m worth of preference shares in the Baha Mar project, and she found: "Here, BML Properties alleges that CCA, the only other shareholder in Baha Mar, not only did not sustain a loss proportionate to BML Properties' loss but, in fact, perpetrated the fraud and benefited from the misconduct that decimated BML Properties' investment. Therefore, BML Properties has properly alleged a direct claim."
While branding Mr Izmirlian's complaint as "overly voluminous" at an "unwieldy, unmanageable 259 pages", Justice Scarpulla condensed the 12 separate fraud allegations into one. CCA sought to dismiss these claims on the basis that Baha Mar was responsible for the project's daily management and therefore could not claim ignorance about its progress.
However, the New York court found that the original Baha Mar developer had provided enough evidence to "sufficiently plead" fraud thanks to the numerous e-mails, documents and meetings referenced. It also rejected CCA's argument that the fraud claims duplicated the breach of contract allegation.
"The crux of the fraud claims is that CCA, from 2012 through 2015, fraudulently misrepresented its existing workforce, available resources and ability to complete the Project to BML Properties, preventing the latter from seeking remedies at the time of the misrepresentations or mitigating their cumulative effect and averting added losses," Justice Scarpulla added.
"BML Properties further allege that CCA's promises pertaining to project completion and misrepresentations about the workforce caused it to invest additional sums and incur expenses that it would not have if it were aware of the true state of the project."
CCA had sought to push the case into arbitration through the mediation/dispute resolution clause contained in Baha Mar's construction contract. This was amended in 2016 to facilitate the $4.2bn development's completion under the temporary ownership of the China Export-Import Bank and its Perfect Luck vehicle.
While Mr Izmirlian and BML Properties were not signatories to the 2016 deal, CCA claimed they were still bound by it because New York courts "'frequently' impute the intent to arbitrate to a non-signatory".
Finding that CCA had misinterpreted the law, the judge found there was no intent for BML Properties to be bound as such. And its complaints stemmed from the investors agreements, not the construction contract.
She wrote: "In sum, defendants failed to produce evidence of BML Properties' intent to be bound by the arbitration clause or furnish a basis for imputing such intention to it. Accordingly, I find that the arbitration clause is inapplicable and deny defendants' motion to compel arbitration."
The parties are scheduled to return to court on February 27, 2019.