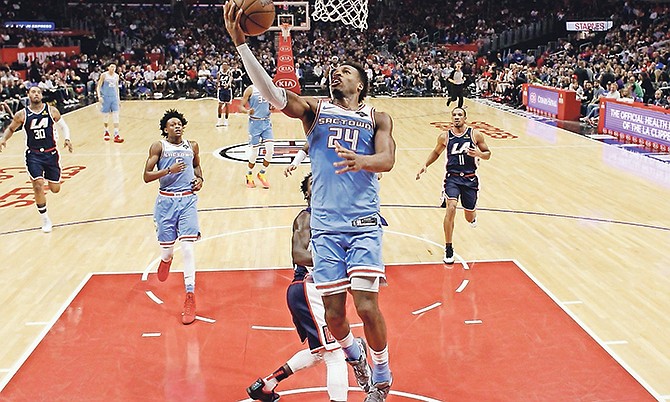 By RENALDO DORSETT
Tribune Sports Reporter
rdorsett@tribunemedia.net
Buddy Hield will reportedly join several of the NBA's elite shooters in the Three-Point Contest during next month's NBA All-Star Weekend.
According to Shams Charania, of the Athletic, Hield will make his debut in the event on State Farm All-Star Saturday Night, February 16 at the Spectrum Center in Charlotte, North Carolina.
Various NBA beat writers also revealed several names added to the field thus far. Charania also reported that Dirk Nowitzki of the Dallas Mavericks will participate, Adrian Wojnarowski of ESPN reported the participation of both Stephen Curry (Golden State Warriors) and Seth Curry (Portland Trailblazers) while Chris Haynes of Yahoo Sports confirmed Damian Lillard of the Portland Trailblazers.
Hield will look to become the first Kings player to win the contest since Peja Stojakovic won consecutive titles in 2002 and 2003.
Klay Thompson, winner of the 2016 Three-Point Contest, said he likes Hield's chances against the remainder of the field.
"I'm excited for him. He's got a real chance. I know Steph might do it, and Seth so the Currys will be stiff competition. I heard Dirk might do it which will be great, Buddy versus Dirk, I think Dirk's got 20 years on him," Thompson said. "I'd just tell him to relax. It's going to be a little nerve wrecking at first because it's just you, five racks and 20,000 people, but he just has to relax and believe in his abilities because he can really shoot it."
In 50 games this season, Hield is averaging a team leading 20.3 points, 4.9 rebounds, and 2.2 assists per game.
Hield is also shooting efficiently at 47.8 per cent from the field and 46 per cent from three.
Hield ranks fourth in the league in three-point makes per game at 3.4 per contest and is shooting 44.4 per cent from three-point range, both career highs.
His three-point percentage ranks ninth among qualified players, but fourth among players who shoot five or more attempts per contest. He also ranks third in the league in total three-point makes (143), behind James Harden (220) and Stephen Curry (197).
In yesterday's 122-103 loss to the Los Angeles Clippers at the Staples Center in Los Angeles, California, Hield scored 16 and shot 6-17 from the field. He was 2-7 from three-point range.
Stephen Curry won the event back in 2015 and has competed in the event five times. He will compete alongside his brother Seth in their hometown of Charlotte. "Just being in Charlotte, there's a nice storyline," Stephen told ESPN. "(Seth) was leading the league in percentage for a while. In terms of family history, my dad playing 10 years in Charlotte; being one of the original Hornets to now having the All-Star Game in Charlotte. The three-point shootout will be fun with the Curry brothers. I know he's going to be gunning for me, though. That's the problem."
Lillard, also a past participant in the contest, is seventh in three-point field goals made with 153 and is shooting 37 per cent from beyond the arc.
Nowitzki has competed in the contest on five occasions, and he won it in 2006. He was the first and only seven-footer to win the event but has not competed since 2008.
It will be Hield's third appearance at NBA-All Star Weekend. In 2017 his 28 points helped Team World to a 150-141 win over the USA in the Rising Stars Challenge in New Orleans.
He followed with an active 2018 All-Star Weekend in Los Angeles. Hield participated in the Mountain Dew Kickstart Rising Stars Challenge, the Taco Bell Skills Challenge and he was also one of several players who hosted various NBA Cares Clinics during the NBA All-Star weekend.
He helped the World Team to a 155-124 win over Team USA and his numbers were again in MVP contention with 29 points, five made threes, three rebounds and three assists.
Hield, 26, finished last season as the Kings' second-leading scorer, averaging 13.5 points (.446 field goal percentage, .431 three-point percentage, and 88 three throw percentage), 3.8 rebounds, 1.9 assists, 1.06 steals in 25.3 minutes per game.