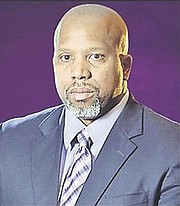 By NEIL HARTNELL
Tribune Business Editor
nhartnell@tribunemedia.net
The Ministry of Finance's top official yesterday admitted there is "substantial" revenue loss from fraudulent invoices that are impacting up to 29 percent of The Bahamas' trade.
Marlon Johnson spoke out after Global Financial Integrity (GFI), an advocacy group that acts as a watchdog on "illicit financial flows", unveiled a report showing The Bahamas has one of the world's highest rates of customs duty and "border" VAT leakage due to the practice of submitting phony invoices that significantly undervalue import shipments.
Basing its findings on United Nations (UN) and International Monetary Fund (IMF) data, GFI found that more than one-quarter of The Bahamas' goods trade with advanced economies such as the US and Canada was impacted by such tax evasion practices.
Branding this as "trade misinvoicing", GFI said: "Several nations have trade misinvoicing levels significantly higher than the global average, including: Sierra Leone (39.8 percent), Georgia (34 percent); Botswana (31.1 percent); Maldives (29.6 percent); Ethiopia (29.3 percent); The Bahamas (29 percent); and Cameroon (26 percent)."
Employing two different evaluation methodologies, the GFI report said one estimated that "underinvoicing" affected almost 64 percent - nearly two-thirds - of incoming import shipments to The Bahamas. With this nation's total physical goods trade pegged at $4.646bn annually, it added that some $2.994bn was being impacted by fraud-related tax evasion.
The second method, though, showed a much-reduced impact with just $765m worth of goods - some 29 percent - impacted out of $2.635bn in total trade. The latter figure, though, appears questionable given that Department of Statistics data shows The Bahamas imports far more than this sum annually from the US alone.
Still, while unable to validate GFI's figure, both Mr Johnson and Michael Maura, chief executive of BISX-listed Arawak Port Development Company (APD), the facility through which around 90 percent of New Providence's imports flow, both conceded that The Bahamas has a "material problem" with the "trade misinvoicing" practices identified by the report.
Mr Johnson revealed that the government's revenue agencies, especially Customs and the Department of Inland Revenue (DIR), are often "playing a game of cat and mouse" with rogue importers and companies who use fraudulent, phony invoices to undervalue incoming shipments and thus evade a substantial part of their duty/VAT liabilities.
"I'm not familiar with that statistic and that particular report," the financial secretary told Tribune Business of the GFI findings," but we do recognise the ongoing challenge with revenue slippage. We recognise we have a load of under-reporting of revenue and evasion mechanisms that are there, and plan to address it in a very material way.
"That's why the Government, in the recent past, legislated the Revenue Enhancement Unit. It has been enshrined in the law. We are taking some steps to give life to the unit, and that should happen in the next month or so, to take a look at that and the range of other slippage points we suspect exist."
Mr Johnson said Customs already possesses an investigations unit whose officers can travel to the US to probe suspected fraud and tax evasion, and added that the Department's new Electronic Single Window (ESW) - which enables goods to be cleared electronically - would significantly enhance its detection and crime-fighting powers.
He added that the ESW will compile "a treasure trove of data" that will allow Customs to analyse import trends, and "sniff out" fraud and tax evasion, by comparing "like products and invoices" submitted by different companies to see if there are any discrepancies.
"We will use Artificial Intelligence, technology and data mining to look for cheats," Mr Johnson pledged. "I want to assure the public of two things: The Government intends to look at it, and the Government is paying a lot more attention to this issue with the enhanced powers and legislation it has."
He added that the Government had "various estimates" of the revenue it continues to lose to falsified invoices, but declined to reveal them. "We believe it to be substantial," he told Tribune Business, "and the deputy prime minister spoke to it a little bit in the Budget speech.
"We believe there's a bit of gain to be had. I think you will see a lot more of that in the next four to six months, and a much more intelligence-led approach by virtue of the ESW and other mechanisms to address it. We are taking it very seriously, and want to address what we know to be the rates of evasion that we believe are too high.
"We have taken some steps. We have seen some improvement, but believe there is room for improvement still. We believe that with the technological assistance of the ESW, and with enhanced surveillance and intelligence work, we can do a bit better in addressing some of these long-standing practices."
One such practice is the tactic employed by many Bahamian companies of creating their own US "shell" or dummy companies, which are usually domiciled in Florida. All US-based purchases of supplies and other equipment is routed through these entities, so that the Bahamian business is effectively invoicing itself when importing goods.
This permits the manipulation of invoices, via a form of "transfer pricing", that enables import shipments to be undervalued and due Customs duty/VAT evaded at the border. Tribune Business sources have suggested that some companies avoid up to one-third of due taxes that should go to the Public Treasury via such mechanisms.
Mr Johnson told Tribune Business that Customs was aware of such practices, describing it as "a cat and mouse game" with tax cheats. He added that interviews for 15 new VAT auditors were also scheduled to take place soon as the Government seeks to "enhance compliance on that side".
Bahamians and residents, though, have also frequently told Tribune Business of the willingness of many Florida-based companies to produce invoices and receipts showing a lower, falsified value for goods purchased in "the Sunshine State" thereby providing a further avenue for tax evasion.
Mr Maura, meanwhile, agreed with Mr Johnson that The Bahamas' long-standing culture and tradition of false import declarations meant that the Government has a tough task to crack down on the evaders and collect every due cent at a time when the Public Treasury needs all the revenue it can get.
While unable to support GFI's 29 percent number, the APD chief told Tribune Business: "I do believe that there is a material issue in terms of the fraudulent declarations. The reality is that it doesn't take much other than for someone to sit at a PC in Fort Lauderdale, attached to a printer, create a company and give whatever they want to be the cost of the end unit, or effectively do the same thing in Nassau."
Mr Maura added that "part of the justification for the investment" in Customs' ESW was the creation of an electronic risk management system that would enable the agency to compare like products, prices and invoices supplied by different importers and thus better detect those likely to be evading due taxes.
"I do believe The Bahamas has a long history of intentional misdeclarations of goods at the border, which is why a port of entry needs a robust, fully automated inspection system to inspect containers, open up containers, compare what is inside the container with the invoice," Mr Maura said.
"We need cargo scanning technology that is current, not 15 years old, and put those containers and pallets through effective scanning so everything declared on that invoice aligns with what is in the shipment. I would agree that it's a very material problem, and monies need to be invested as they have done with this ESW."