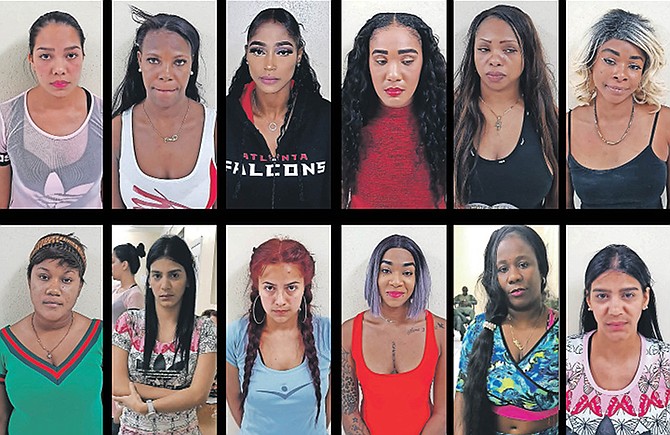 By KHRISNA RUSSELL
Deputy Chief Reporter
krussell@tribunemedia.net
IMMIGRATION officials arrested 12 foreign women early yesterday morning during a joint operation targeting the "illicit nightlife circuit" throughout New Providence.
Five Jamaicans, five Colombians, one Venezuelan and one Trinidadian were taken into custody in the joint operation called "Operation Honey Hive", which also included Royal Bahamas Police Force officers from the South West Division.
The immigration enforcement team raided three strip clubs between midnight and 3am.
While the women are expected to be charged before a Magistrate's Court in the coming days for infringing statute laws, it is unclear what charges they will face.
An official from the RBPF said it is likely they will face charges for immigration offences.
"The operation's objective was to infiltrate the illicit nightlife circuit in New Providence by strategically targeting strip clubs throughout the island," immigration officials said in a press statement released yesterday.
"In particular, the aforementioned arrests were made at the Xclusive Sporting Lounge (Faith Avenue North), New Twilight Restaurant and Sporting Lounge (Robinson Road) and Cheetahs Upscale Bikini Sporting Lounge (East Bay Street) and the foreign nationals were transported to the Detention Centre, Carmichael Road for processing."
The Department of Immigration's Enforcement Unit was headed by Chief Immigration Officer Harold Thurston, Senior Immigration Officer Vonetta Darling-Flowers and K-9 Unit Supervisor Officer David Rolle.
The RBPF's Southwest Division was led by Police Sargent 2581 Kerr and PC 3555 Simmons.
This is the latest immigration arrest in recent weeks, as officials all over the country crack down on illegal migration.
Last Thursday, 62 Haitians were repatriated from Freeport, Grand Bahama to Port-au-Prince, Haiti, on board a Bahamasair charter flight under heavy escort by law enforcement officers.
According to the Department of Immigration, 33 of the migrants were arrested in New Providence for various immigration offences and 29 were apprehended in Grand Bahama. Twenty-five of the Grand Bahama group were arraigned last week in the Freeport Magistrate's Court. The group was repatriated after 8am.
Earlier this month, Prime Minister Dr Hubert Minnis said the government remains committed to aggressively dealing with the country's immigration problems, which, he said, poses a serious threat to major sectors of society.
The prime minister said he is aware there were many Bahamians who feel not much has been done to stop illegal immigrants, but he insisted that "a lot" has been accomplished.