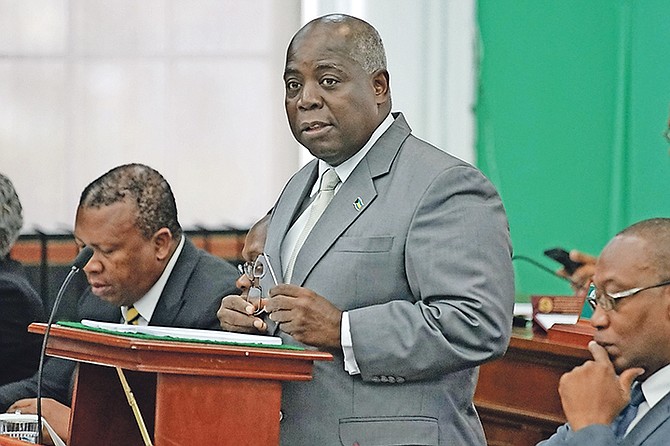 By RASHAD ROLLE
Tribune Staff Reporter
rrolle@tribunemedia.net
PRIME Minister Dr Hubert Minnis' national address Monday night fell flat and avoided important issues, according to Progressive Liberal Party leader Philip "Brave" Davis.
"A PLP administration would have announced the airport had been started in Exuma, the school in Black Point and its clinic fixed and functional, and announced a buyer and operator for the hotel in Grand Bahama complete with the requisite supporting airlift," said a statement by Mr Davis.
"Further, Ragged Island would be well on its way to being back on its feet again; the construction of a new runway at the Lynden Pindling International Airport would be well underway. The PLP would have said something to give people hope in other words."
Dr Minnis' national address was broadcast on more platforms than usual for such addresses as it was carried by ZNS, Our News, JCN and Eyewitness News.
The hype beforehand convinced some in the PLP that Dr Minnis' address could serve as a turning point for the administration, The Tribune understands. However, the prime minister made no major announcements and largely rehashed economic figures and summarised tourism projects that are in the pipeline. 
Mr Davis said: "Bahamians were treated from their prime minister to a litany of non-performance. What a travesty this address was. A nothing burger trying to pass for sensible policy and accomplishment. Mr prime minister, after 20 months in office you must surely know you cannot simply pronounce something as truth––that which is clearly false. You have fallen short.
"The prime minister stapled together every piece of paper he could to try to make the government look 'busy'. It's the kind of thing that children do when the teacher walks into class. But nothing that he said (Monday night) can hide the fact that his government is failing. Some of what he prompted as successes, are simply processes. For example, we hardly need a plan to clean up Bay Street. It simply needs to be done. Just clean it up."
Dr Minnis noted unemployment on Grand Bahama has declined according to the latest labour force survey. Mr Davis said this was "a selective story" but he did not refute the Department of Statistics' survey.
"In any event the figures show that unemployment is up in the country at large," he said. "This is simply breathtaking and inexcusable. How can you fire thousands of people, hire your cronies, then claim that unemployment is down? I do not want to belabour the point. Suffice it to say, the Hubert Minnis and his administration have been disaster for the country. The facts show it. Everything is going in the wrong direction. Most of all, there is no feel good factor in the country for him and the FNM. The misery index is up in the Bahamas."
For his part, PLP Chairman Fred Mitchell said he was not surprised Dr Minnis address "was as dull as nails." 
"Forty-four minutes of drivel," he said. "The tone of deafness is not surprising but interesting, particularly as it relates to the pain and suffering all their cutbacks have caused this economy and the reliance on statistics to the exclusion of real life experiences."