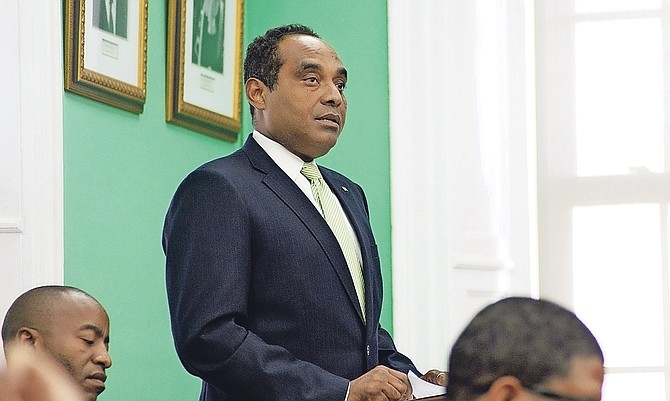 By KHRISNA RUSSELL
Deputy Chief Reporter
krussell@tribunemedia.net
A COMPANY contracted to do work in a Carmichael Road subdivision had its bill heavily reduced after Ministry of Public Works officials were unable to prove it had completed work it claimed to have done.
In documents tabled in the House of Assembly by Housing and Environment Minister Romauld Ferreira, Priton Bahamas Limited claimed to have completed work in the amount of $2,192,019.84. However, upon investigation by officials only $367,288.61 worth of work could be proven.
Priton's agent, according to a company search, also tabled yesterday, was listed as Valentine S Grimes. 
Several big items were slashed, including a line item for trucking services and fill. Priton claimed to be owed $867,649.71 for this service, but the ministry had only agreed to $311,913.89.
Salaries were also slashed from $981,500 to a recommendation of zero from officials.
National Insurance Board contributions in the amount of $18,944.42  also had the same recommendation.
This was documented in a memorandum from the Ministry of Public Works.
"The ministry's technical team has reviewed the documents submitted by the Department of Housing with respect to the PPP agreement with Priton Bahamas Limited for the development of the Carmichael Road Subdivision," the memo dated June 26, 2018 read.
"We note that Priton is claiming $2,192,019.84, which is broken down into 11 different items for work done to date on the above mentioned subdivision. The Ministry of Public Works can only recommend $367,288.61 be paid to Priton Bahamas Limited; any additional amount would have to be subject of negotiations between the government and Priton for which the ministry stands ready to assist."
The memo further attached a minute paper from a senior engineer depicting the breakdown of the claim and the ministry's recommendations.
An invoice for $4,744,359.41 from Priton was also tabled in Parliament. It was dated December 31, 2018 and notes this money was owed as of January 1, 2019.
It is not clear how this document played into a verbal back and forth between Official Opposition Leader Philip "Brave" Davis and Housing Minister Romauld Ferreira yesterday in the House of Assembly.
However, it prompted Mr Davis to insist the minister "misled" the House. Based on this assertion, he called on Prime Minister Dr Hubert Minnis to "do something" about it.
The issue spilled over from last week Wednesday's afternoon sitting.
Mr Davis pointed out yesterday that in that sitting Mr Ferreira impugned his privilege when he suggested that he and former Prime Minister Perry Christie committed some form of wrongdoing.
Mr Davis insisted the minister produce evidence to his claims.
House Speaker Halson Moultrie interjected, asking whether Mr Davis wanted the matter to be referred to the Committee on Privilege or for documents to be tabled.
Mr Ferriera was also asked to respond to Mr Davis.
His response, in which he referred to archived stories from years prior, sparked several arguments.
Ultimately, Mr Davis insisted Mr Ferreira reveal to the House the true value of the invoice and because he came prepared to table several documents, some seated opposition MPs expressed disappointment that it appeared the minister had been forewarned this issue would be addressed yesterday.
And when the documents were tabled, Mr Davis insisted Mr Ferreira misled the House of Assembly.