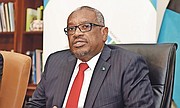 By RASHAD ROLLE
Tribune Staff Reporter
rrolle@tribunemedia.net
A RESOLUTION was passed in the House of Assembly yesterday to borrow $30m from the Inter-American Development Bank to further digitise government services.
The borrowing was previously approved during last year's budget exercise, according to Deputy Prime Minister and Minister of Finance Peter Turnquest. The modernisation unit in the Office of the Prime Minister will spearhead the digital push.
The government has been gradually digitising services for years, but Prime Minister Dr Hubert Minnis noted the clumsy way digitisation has been integrated.
"Currently," he said, "we have an online presence of 400 services, that is, forms that may be obtained online. These forms must be printed, completed, then physically delivered to the relevant government ministry or department."
Noting The Bahamas consistently ranks low on global ease of doing business indexes, placing 118 among 190 countries in the World Bank's 2018 list, Dr Minnis said the country must improve where, when and how services are delivered and the number of times customers must appear in person to obtain those services.
"Services ought not to take months to obtain," he said. "In preparation for the writing of the loan document, the Bahamas Chamber of Commerce and Employers Confederation conducted a survey and concluded that Bahamians spend an average of 25 days per year doing business with the government. I want you to visualise the lines at the Road Traffic Department, the Passport Office and the Registrar General's Department."
From the loan, $13.8m will be geared toward simplifying and digitising government procedures, $9.9m for strengthening institutional capacity, $3.3m for project management, monitoring, evaluation, audit and contingencies and $3m to enhance transparency and integrity in government, Dr Minnis said.
That $3m, according to the resolution, must provide support for the implementation of the Freedom of Information Act by developing a master plan for the FOIA's rollout, "providing technical support for the set-up and operation of the office of the information commissioner and conducting training to information managers to enhance transparency in public sector entities and enhancing inter-institutional co-ordination to effectively implement FOIA provisions".
The loan will be used to "design and implement a government computing service that will allow agencies to access a shared e-government infrastructure and applications," the resolution said. It will "digitise government procedures related to property registration and computerise procedures related to setting up a business".
Dr Minnis said he anticipates it will take about five years to complete the digitisation process.
He said there will be a "single window facility through which you can obtain services online from wherever you are – your birth certificate, your driver's license, registration at the clinics and police certificates; a unique personal identifier for the user along with a process to sign documents digitally that allows the user to transact business online; a once-only concept enshrined in legislation so that once one government entity has a piece of information about you, no other agency is allowed to ask for it. You will not have to take your birth certificate to the Passport Office or to the Ministry of the Public service ever again."
Recent administrations have sought to digitise and modernise government services in some way. The Minnis administration has emphasised improving the ease of doing business. Already the government has begun providing provisional licenses to low-risk businesses, allowing entrepreneurs to operate within 90 days while they complete the full licensing process.
The administration has also removed fees for starting new businesses and no longer requires businesses that make less than $100,000 a year to pay an annual business license fee.
Progressive Liberal Party parliamentarians voted against the resolution yesterday.
Exuma and Ragged Island MP Chester Cooper said they lacked a "full sense" of what already borrowed funds have been used for.
"The government has said we sit on a fiscal cliff, you've said the cupboard is bare, you're said the PLP borrowed so much and now this," he said.
Opposition leader Philip "Brave" Davis added the PLP believes the government is reaping enough revenue to digitise government services without borrowing money.
"The agreement to which the government is going to enter into has a rate of just around $5m a year. It's a six-year draw down programme from what I have seen from the agreement. I accept that we have to digitise but it appears to be a six year programme for $30m, $5m a year and we say the general revenue of the government ought to be able to fund this without us having to borrow. That is why we say no to this."
Mr Turnquest rebuked the PLP, reminding them that they voted to borrow the funds last year.
"This is a part of the borrowing plan that was outlined in this House back in May 2018," he said.