By RIEL MAJOR
SCORES of angry taxi drivers gathered in Rawson Square yesterday to protest what they consider poor treatment and working conditions as well as "unfair" competition from tour operators.
The drivers are also angry about "sanctions" being imposed by tourism officials at Prince George Wharf. They are agitating for Prime Minister Dr Hubert Minnis to hear their concerns. Wesley Ferguson, president of the Taxi Cab Union, said taxi drivers have been disrespected and ostracised.
He claimed successive administrations have not done anything for taxi drivers other than solicit their votes during election time just to forgot about them afterwards.
Mr Ferguson said: "We are here today to make the government of The Bahamas aware that taxi drivers island-wide are hurting. The taxi drivers are the only group of public service drivers who own their business. Taxi drivers had a moratorium (on new taxi plates) 20 years ago so that means no taxi driver got anything from any government in 20 years, so that tells me four consecutive governments were in and they came out and left the taxi drivers behind.

"Taxi drivers have produced over the years governor generals . . . you had Perry Christie (whose father was a taxi driver) who went to college on taxi money and Brave Davis went to college on taxi money."
Mr Ferguson added yesterday's demonstration could have been avoided if Dr Minnis had kept his promise to meet with the taxi cab drivers after he returned from a European Union conference recently.

"The prime minister asked me to cease from the withdrawals which was just a subtle beginning of what was about to come which culminates today. We did that at his request; he promised us as soon as he got back which was in three days, he would then meet with the taxi drivers, well it has been three weeks. We reached out to the prime minister on numerous occasions just Tuesday we went to the Churchill Building, stand up for an hour and a half in the rain…no prime minister.
"'It's the people's time' but it isn't the taxi drivers time...obviously taxi drivers are not the people."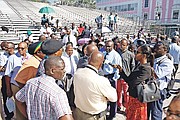 On Tuesday, angry drivers assembled outside the Churchill Building. At the time, Mr Ferguson said the latest dispute centred on the Ministry of Tourism's decision to take disciplinary action against taxi drivers, a move he condemned as "unlawful". But Dionisio D'Aguilar, minister of tourism, has said ministry personnel were simply trying to protect the Bahamas' brand and improve the overall visitor experience.
Ricardo Burrows, a taxi driver, said he feels like the government does not value him as a citizen.
Mr Burrows said: "What you are seeing here is just the combination of a long process of being denied access and being frustrated at every hand. This is the second day downtown and we still haven't had any conversations with the persons in charge, including the prime minister. It makes us feel as if our prime minister doesn't respect us or isn't concerned about our plight.
"The working conditions that we are subjected to, you wouldn't put your dog to it whether it be at the airport, Paradise Island, whether it be the conditions of cab drivers at Baha Mar. The level of disrespect that cab drivers are subjected to every day, I wonder if they see our humanity? Do they see us as human beings and citizens? I really question it because their actions speak loudly to me."
In a press statement, Phillip "Brave" Davis, Progressive Liberal Party leader, suggested the prime minister start listening to taxi drivers.
"I call on the prime minister to listen to the hardship and concerns of the taxi cab members and its union's leader and bring about a resolution to their unsettled disputes. The disrespect and disregard for the union that played a critical part in our country's independence is absolutely appalling," Mr Davis said.
"The prime minister must understand his responsibility of leading, protecting, and uplifting the citizens of our country. The belittlement of cab drivers by the industry stakeholders and the prime minister and his government must end. I support whatever steps the Taxi Union deems necessary that will result in favourable conditions that will provide a working environment of dignity."
A meeting between the Taxi Cab Union and Dr Minnis is scheduled for Friday at 8am.