By NEIL HARTNELL
Tribune Business Editor
nhartnell@tribunemedia.net
A Cabinet minister has admitted that Bimini's power crisis is "extremely vexing" for the island's tourism lifeline as furious visitors cancel bookings, leave early and demand refunds.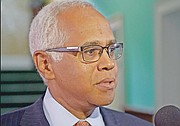 Dionisio D'Aguilar, pictured, minister of tourism and aviation, told Tribune Business that The Bahamas' "reality" was such that all serious tourism and restaurant businesses are "almost forced to build back-up power into your business plan" given the severity and frequency of Bahamas Power & Light (BPL) outages.
Additional power generation units were said to have arrived on Bimini yesterday, and will be hooked up over today and Tuesday in a bid to address an already-tenuous supply situation that was transformed into a crisis by the Labour Day fire that destroyed nine megawatts (MW) of generation and BPL's most efficient engines.
However, the state-owned utility's emergency action has come too late for many tourists - especially boaters and vacation rental guests - who told Tribune Business and through social media postings that they have had enough and left early ahead of the upcoming US Independence Day weekend - a high point in Bimini's economic and tourism calendar.
Margaret Taylor, a South Carolina native who contacted this newspaper as she and her 27-strong party of family and friends drove him last night, said they would have ended their week-long Bimini stay "a couple of days early" had they been able to obtain fuel for the four boats they travelled over in from Florida.
Having rented five condo units on south Bimini, she said that had they "known what was going on" they would not have come. Expecting occasional power outages that lasted for around two hours maximum, they were confronted with the "random" loss of electricity that often lasted for six to eight hours at a time.
Unable to keep the food supplies she and her group had brought with them, Ms Taylor told Tribune Business: "There was no air conditioning. If you opened the doors and windows, the mosquitos would eat you alive. It was like peppering your face.
"Rodents were a problem running around the trash cans, and we had to use five-gallon buckets filled from the ocean to flush the toilets. The entire island is suffering. People are leaving that came after us, and leaving in 24 hours. Even if you took a generator you would not be able to sustain it.
"We had planned this vacation since Christmas. It's our big one of the year. We'd been before. If the outages were a couple of hours we could handle it, but six to eight hours we cannot handle that. It was unbelievable. If we could have got out of there we would have left early. I would come back, but only if the power is on 24/7 and there are no problems."
One Bimini homeowner, who rents his property out to visiting tourists, shared with Tribune Business the messages he has been receiving from disgruntled guests who departed early after the power cuts ruined their vacation.
One wrote: "Left the keys under the mat at 9am yesterday. I want my refund request to be communicated with whoever the owner is. We stayed Sunday, Monday and Tuesday. Three out of seven days, not even half of our vacation.
"I really wish we'd known the extent of the power outages too. We had no power for seven hours one day and five hours another. Now I am really thinking I'll share a review. I don't want anyone else to waste their time or money on this."
Social media postings have been equally bleak. William Gorton wrote on The Real Bimini Facebook page: "We own a condominium at Bimini Sands resort. We arrived Wednesday morning power, went out for six hours. Thursday power shut off 7.30 at night and did not come back on until 1am.
"We were going to stay over the Fourth of July weekend but left Friday morning. It's like visiting a Third World country; no power, no water, no way to cook food, no way to get food, not to mention the mosquitos that will carry you away. The attitude of the locals is going downhill: 18 percent gratuity, 12 percent VAT and treated awfully."
Dominix Cox added: "We have been without power daily for several hours at a time for the last couple of weeks since I've been here in Alice Town. Last night, for instance, the power was cut at around 3ish and did not return until 12am.
"Mosquitos and darkness have been the norm around here for at least six weeks according to my father at the Dolphin House Museum, who lives here full time. I had delayed my flight here for three weeks trying to avoid this situation, but alas it continues. Hopefully they will get this situation resolved soon. It has been challenging for us and we know this is a challenge for those involved to repair also."
Mr D'Aguilar, meanwhile, told Tribune Business that Bimini's energy situation had been "an ongoing problem" for some time that had been "compounded by the fires". He added: "There's no doubt the power situation in Bimini is vexing, and the minister of works, the honourable Desmond Bannister, has informed the public they're working hard to resolve that problem.
"But until its completely resolved any power supply is likely to be intermittent, and if you do not have back-up power I can understand that impacting your business and being extremely vexing. Most businesses in The Bahamas, it's just the reality, have some back-up power supply because not only are there the normal BPL generation problems but we live in the hurricane belt.
"You almost have to factor some back-up power supply into your business plan if you want to maintain a viable business. It's the reality that most hotels and restaurants almost have to have a built a back-up generator into your business plan. That's what's unfortunately necessary to reduce customer frustration and deliver a product of consistent quality."