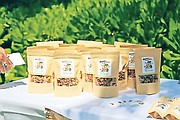 By ALESHA CADET
Tribune Features Reporter
acadet@tribunemedia.net
Frank Benoit is 61 years old and struggled with his weight for many years. He finally decided to make a decisive change 10 years ago when he took an honest look at his lifestyle, especially his diet.
Committed to his new health and wellness journey, Frank, however, did not want to completely cut out snacks; they just needed to be healthier than those he had been consuming before.
Finding nothing on the market to suit his needs, he started developing his very own brand of healthy but indulgent trail mix snacks.
"I began experimenting with different mixes. It got to the point where I was giving out the mix to friends and family on holidays," he said.
Soon, what started out as small private project, developed into a business and he officially launched Goombay Trail Mix 242.
Frank, who had been working in a corporate environment for over 30 years, got the push he needed when he lost his day job.
"My motivation to start Goombay Trail Mix came last year when I was terminated by the company I was working at," he told Tribune Health.
"At that time my son, who had been prodding me for years to sell the mix, told me this was the time for me to pursue my passion for preparing and supplying healthy snacks to anyone on their health journey. Surprisingly, my most memorable customer experience came from my first customer. The company who let me go gave me a huge order at Christmas which kick-started my business. It showed me that if they had faith in my product I was on track."
At present he only offers his original trail mix, however, he is in the process of developing additional mixes based on feedback received from clients over last several months. These should be out in the near future.
Frank's overall goal is to become the go-to business for people in search of healthy snacks, not only in the Bahamas, but from abroad as well. His plans for the rest of the year include building his Goombay Trail brand, completing the necessary physical infrastructure for the business, and lastly, expand on his trail mix recipes.
"Considering that people are starting to understand the importance of food in the fight against non-communicable diseases, my future will only be limited by my work. I have been receiving very positive feedback from customers. In fact, the main one which I find gratifying is persons reporting that once they open a bag they do not close until it is empty. I have also received several requests for different mixes. What I like the most on being an entrepreneur is the knowledge that whatever successes are gained, they are mine not a company's. Surprisingly, I am actually enjoying the challenges," he said.