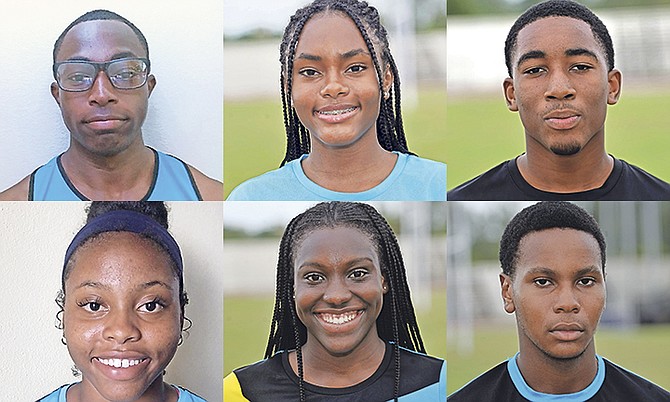 By BRENT STUBBS
Senior Sports Reporter
bstubbs@tribunemedia.net
SAMSON Colebrooke, Keyshawn Strachan and Anthaya Charlton helped to lead the Bahamas to a fifth-place finish in the 10th North American, Central American and Caribbean U-18 and U-23 Athletic Championships in Queretaro, Mexico.
The trio collected the three gold medals as the Bahamas finished with eight medals, including four silver and a bronze as the United States of America topped the chart with 27 gold, 23 silver and six bronze for a total of 56.
Mexico followed with 19 gold, 15 silver and 29 bronze for their total of 39. Canada rounded out the top three with six gold, nine silver and 13 bronze for their total of 28. As the meet came to a close yesterday, Colebrooke picked up his second medal when he stormed across the finish line with the gold in the boys' under-23 200m final in a personal best time of 20.58 seconds. He was trailed by Trinidad & Tobago's Jerod Elcock in 20.65 for the silver and American Micaiah Harris in 20.74 for the bronze.
The day before, Colebrooke added a second silver in the 100m after the Queen's College graduate clocked another PB of 10.01 to tie his Purdue team-mate Waseem Williams from Jamaica, who won the gold on a photo finish that saw Barbados' Mario Burke take the bronze in the same time.
Also yesterday, Charisma Taylor soared to a lifetime best of 13.22 metres or 43-feet, 4 1/2-inches for a bronze in the under-23 girls' triple jump. Her best effort came on her first attempt. She also produced marks of 13.10m (42-11 3/4), 12.99m (42-7 1/2), 13.20m (43-3 3 3/4), 13.22m (43-4 1/2) and 12.87m (42-2 3/4).
Cuba's Davisleydi Velazco took the gold with 13.94m (45-9) on her second attempt and Danielle Spence of Jamaica got the silver with 13.24m (43-5 1/4) on her first try.
The Bahamas missed out on a spot on the podium in the boys' under-23 triple jump as Martin Holland had to settle for another fourth-place finish with his best of 16.47m (54-0 1/2) on his second attempt, while Tamar Greene came behind him in fifth place with 16.20m (53-1 3/4) on his second try as well.
The USA took the top two spots with Isiah Griffith winning the gold with 16.79m (55-1) on his second try and Armani Wallace getting the silver with 16,72m (54-10 1/4) on his third attempt; Obrien Wasome of Jamaica was the bronze medalist with 16,66m (54-8) on his sixth and final try.
In the under-23 boys' high jump, Jyles Etienne placed seventh and Kyle Alcime was eighth, both clearing 2.10m (6-10 3/4). Winning the medal was Americans Keenon Laine and Earnest Sears, both with 2,25m (7-4 1/2) for gold and silver, while Erick Josué Portillo of Mexico won the bronze with 2,22m (7-3 1/4).
The under-23 girls' high jump saw another collegiate duo of Daejha Moss and Celine Thompson place fourth and fifth with 1.75m (5-8 3/4) and 1.65m (5-5) respectively. America's Nicole Greene got the gold with 1,87m (6-1 1/2), Mexico's Ximena Lizet Esquivel got the silver with 1,87m (6-1 1/2) as well and American Erinn Beattie got bronze with 1,75m (5-8 3/4).
In competition on Saturday, Strachan picked up one of two medals for the Bahamas with his gold medal performance in the under-18 boy's javelin when he tossed the spear 62.70m (205-8).
Luis Ángel Ortega from Mexico got the silver with 59.63m (195-7) and Alexis Rodriquez, also from Mexico, came up with the bronze with 58.50m (191-11).
The other medal came from Rhema Otabor in the girls under-18 javelin with her heave of 47.68m (156-5). She trailed Mexico's Xochitl Montoya with her winning toss of 48.53m (159-2). Paulina Cazares, also from Mexico, followed Octabor with the bronze with her best of 45.26m (148-6).
On the track, Jasmine Knowles gave it her best shot in the girls under-18 800m. But her time of 2:12.70 was good enough for fourth place, just leaving her off the podium.
Ascending to the top of the stand with the gold was Lorena Rangel of Mexico in 2:10.28. The silver went to Emma Pegg of Canada in 2:10.49 and her team-mate Cassandra Williamson got the bronze in 2:11.15.
On Friday's opening day of competition, Anthaya Charlton soared to the Bahamas' first gold with her championships record-breaking leap of 5.86 meters or 19-feet, 2 3/4-inches in the under-18 girls' long jump. Paula-Ann Chambers of Jamaica got the silver with 5.76m (18-10 3/4) and Maria Fernanda Marquez of Mexico won the bronze with 5.69m (18-8).
Tarajh Hudson clinched a silver in the under-18 boys' discus with a heave of 56.74m (186-2). Hudson was sandwiched between the gold medal performance from Jamaica's Milford Mullings with 62.34m (204-6) and the bronze from Mexico's Julio Cesar Santos with 54.40m (178-5).
The Bahamas also ran a team in the under-23 girls' 4 x 100m with the combination of Daejha Moss, Dreshanae Rolle, Celine Thompson, and Charisma Taylor placing fourth in 47.82. The USA won the gold in 42.97, Canada got the silver in 44.28 and Mexico got the bronze in 47.52.
And in the under-23 boys' 4 x 100m, the team of Tamar Greene, Samson Colebrooke, Holland Martin, and Shakeem Hall-Smith raced to the silver in 40.33. The USA won the gold in 40.03. Mexico did not finish and Jamaica was disqualified.