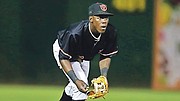 By RENALDO DORSETT
Tribune Sports Reporter
rdorsett@tribunemedia.net
JAZZ Chisholm homered twice to bring his season total to 17 and tied a career high for RBIs in a single game to lead his Jackson Generals to their latest win in Double A Baseball.
Chisholm also added a single to finish 3-5 with five RBI and two runs in the Generals' 11-4 win over the Chattanooga Lookouts Saturday at AT&T Field in Chattanooga, Tennessee.
His first home run came in the eighth inning off a 2-1 pitch. The two-run blast gave the Generals a 7-4 lead. He returned in the ninth inning and hit a three-run homer for the game's final margin.
His night began with a strikeout in the first inning, but he followed with a single in the third for his first hit and a line out in the sixth inning.
MLB.com's 50th overall prospect and top ranked in the Arizona Diamondbacks farm system, Chisolm is currently second in the Southern League with 17 home runs. He is also eighth in the league with 43 RBI and fifth with five triples.
Following the game, he outlined his approach with Brian Stultz of MiLB.com.
"It felt great. I'm just getting back to where I was earlier in the year. My confidence has always been up the whole season, no matter how it's going. I'm trying to stay short to the ball. That's my approach right now, staying with the ball and not doing too much, hit the ball hard somewhere. If it goes over the fence, great for me and I get to trot around the bases, but I'm not up [at-bat] trying to hit homers."
Defensively, the 21-year-old shortstop has a .942 field percentage with 167 assists and helped to turn 39 successful double plays.
"I work on everything. Laying on the ground and getting up and throwing to first base. Honestly, every day I work on something at shortstop to improve my game on defence, because that is my favourite part of baseball. I love the home runs and all that stuff, but my favourite thing to do is play defence," he said. "Just going after a ball and making a great play. Defence is so special to me for that feeling after you make a great play and your teammates say, 'wow, that was a great play.'"
Through 76 games, Chisholm is hitting .202 with 54 hits, four doubles, five triples, 17 home runs, scored 46 runs, 43 RBI, an OBP of .310, OPS of .756, and slugging .446 with nine stolen bases.