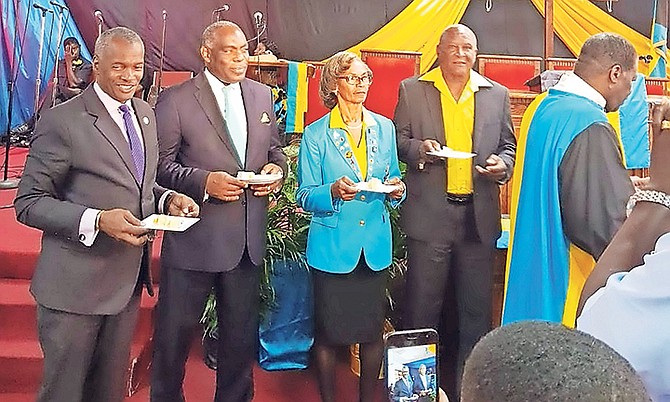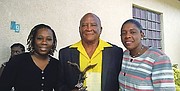 By BRENT STUBBS
Senior Sports Reporter
bstubbs@tribunemedia.net
LONG time legendary women's basketball coach Anthony Swaby was among four persons making the Commonwealth Baptist Church's Soaring Eagles' 14th annual Community Independence Service honours list.
Swaby, along with Minister of Works Desmond Bannister, Bahama Journal owner Wendell Jones and physical education teacher Hattie Moxey were honoured during Sunday morning's service at the church in Elizabeth Estates. The presentations were made by Bishop Arnold Josey, senior pastor of Commonwealth Mission Baptist Church.
"I am grateful because at times you think what you are doing is not being appreciated," Swaby said. "I used to think about it but before she died, my mom Joyce, who died in 2002, told me that the Lord will always and continue to bless you for what you do and not what people do for you.
"So that sort of made things a bit easier. Then there are former players and parents who never let you forget just how much they appreciate what you did for them and for their kids. So that in itself is more than any recognition that I could ever get. I'm happy that they gave me my flowers while I can smell them."
Swaby said it was a special moment for him, having his wife Melonie and grandchildren present to share the moment with him. He was also appreciative of players Diasti Delancy and Sherell Cash, who also attended the service.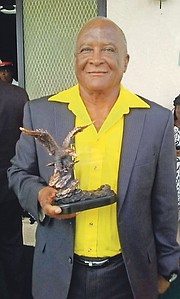 Having coached the sport for the past 45 years, Swaby said he was thrilled to have been honoured in this year's class and he will cherish the gesture by Bishop Josey and Commonwealth Baptist Church.
Looking back at his tenure on the sidelines, Swaby said one of his most challenging experiences came when he was invited to coach the Jamaican women's basketball team at the Centrobasket Tournament in 1996 in Belize.
"Today, I'm the only Bahamian to ever coach another women's national basketball team outside of the country," Swaby said. "At the time, I was sitting around not doing anything because I was no longer involved in coaching the women's team.
"Apparently, the federation, under Gladstone 'Moon' McPhee, had decided to go in a different direction, so I wasn't involved with the women's national basketball team at the time and I was home doing nothing when I got a call and asked if I was interested."
One of the difficult tasks for Swaby was to be on the opposite end of the court, coaching Jamaica against players from the Bahamas, whom he groomed.
While the Bahamas, coached by Felix 'Fly' Musgrove, prevailed, Swaby said for the first time in life he was handsomely rewarded for doing what he enjoyed doing.