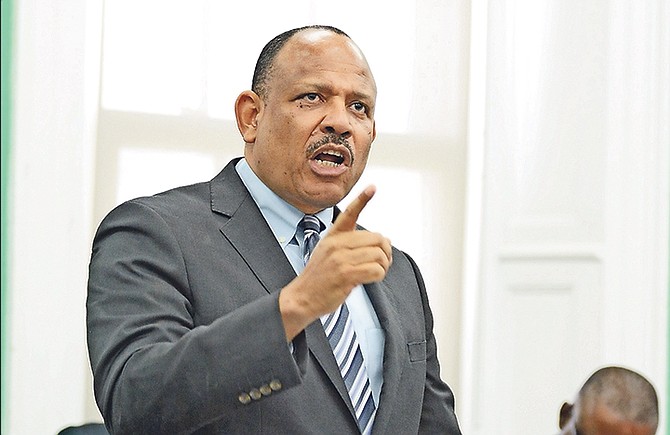 By KHRISNA RUSSELL
Deputy Chief Reporter
krussell@tribunemedia.net
WHILE stressing the government's commitment to fully implement National Health Insurance, Health Minister Dr Duane Sands said it will be another six months before a decision is made about when the scheme can be expanded to include catastrophic care.
Speaking to reporters yesterday, Dr Sands was non-committal on whether the expansion would take place in 2021 as he stated last month.
He said Cabinet did not agree to escalate to high-cost care but to defer the additional services to a later date.
Presently, around 55,000 people are receiving primary care services through NHI.
"Six months from now we will revisit this and make a determination as to when we could expand to catastrophic care," said Dr Sands. "I believe that it remains something that the public finds appealing.
"There is no question that given the issue of cookouts and paying for these expensive services - especially in light of the scourge of non-communicable diseases - heart disease is expensive; cancer is expensive, accessing certain sophisticated health services is expensive. At the same time solidarity in shared expenses is something that requires a contribution from the public and the public, while they are happy to have additional services, are not so happy to pay for it."
He suggested NHI was not a priority due to more important issues.
"So the discussion has been the incremental increase in services provided through National Health Insurance specifically the addition of high cost of catastrophic coverage that would be an obligatory increase in cost (and) depending on who you speak to anywhere between $60m or $100m or thereabout.
"We would have decided not to add any new taxes this fiscal year. The discussion has continued about when NHI would increase the services provided and what I would have said in my budget contribution is that we would delay for about six months any additional discussion or decision on the incremental ramping up of services provided through NHI.
"In the meantime, primary care services continue."
He added: "We would have made a commitment in our manifesto 2017 that this is something that we are committed to. Bear in mind that there are many things that we would like to do.
"We as an administration would have been criticised about the expansion of scholarships for UB and here it is it's happening at a significant investment by the Bahamian public.
"As we expand these services, they come with a price tag and so while we may not be able to do it this week or this month it doesn't mean that we have separated ourselves from the goal to get it done."
The catastrophic care phase of NHI was initially to be launched in July 2020.
The National Health Insurance Authority's latest proposition to fund NHI said the programme will be funded by contributions from businesses.
It estimated the annual premium per employee would be $1,000 per year or $84 per month.
Employees earning more than $66,667 will pay the entire premium.