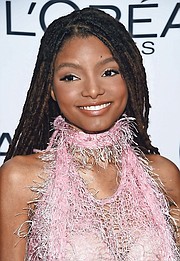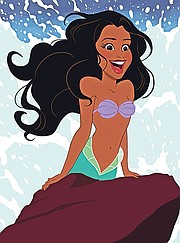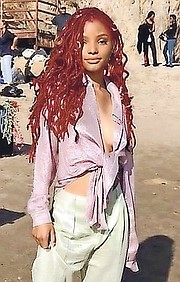 By CARA HUNT
Tribune Features Writer
cbrennen@tribunemedia.net
Disney's announcement that 19-year-old Halle Bailey as been cast as Ariel in their upcoming live action adaption of "The Little Mermaid" has created quite the social media stir.
After all, Disney has always portrayed Ariel as Caucasian, with pale skin and flowing red hair; that is the way she appears in all of the movies, the cartoon series, on the merchandise, and in the theme parks.
So more than a few eyebrows were raised when African-American singer and actress Halle was announced as the new Ariel.
Social media went into frenzy and the hashtag #NotMyAriel immediately started trending on Twitter.
Most individuals on the "Ariel is white" side stressed that their objections were not about racism, but more about the "realistic and accurate" portrayal of the character. After all, they argued, the fairy tale on which the movie is based was written by Danish author Hans Christian Andersen and the statue honouring the Little Mermaid is displayed in Copenhagen.
Rhys, a white Twitter user summed up the view of many this way: "The Little Mermaid was written as white, was white in the film, is based in Denmark, and based on a European fairy tale, but is cast as black. How is this not racist and cultural appropriation. If this were the other way round, those celebrating would be boycotting."
Another Twitter user, Adrian, tried this approach: "It isn't about racism. It is just about the actress chosen not looking like the Little Mermaid everyone knows and loves in their minds. Not everything is hate and discrimination in this world, dear neo-millennials."
On the other side of the argument there were tweets like this by social activist Brittany Packnett: "Imagine believing Jesus is white but believing a fictional mermaid can't be black."
"As a white-skinned redhead, I have very strong feelings about #TheLittleMermaid. Ariel changed my ginger world. The mean 'jokes' ended. I became envied for my hair. And you know what? I want little black girls to experience that same feeling with new Ariel," posted Twitter user Morgan Jarrett.
Tribune Woman decided to speak to several of our Bahamian readers to get their take on the #NotMyAriel debacle.
Like the above Twitter user, Tina, a mother of three girls, is delighted with the representation Halle will be providing for her daughters.
"My girls are going to love her! They love the 'Little Mermaid' cartoon and they will love having someone who looks like them in the role. Yes, after 'Black Panther' made a gazillion dollars at the box office, the cynic in me thinks they may be pandering to black audiences, but I don't really care. This is going to be great," she said.
Pastry chef Rosie shared similar sentiments.
"I'm happy that they gave it to the young lady, an opportunity for everyone to see her talent. But on another note, I think the powers that be are doing it to gain brownie points with the black community," she said.
Prior to the announcement, Rosie said she had been convinced Disney was going to cast singer Ariana Grande as Ariel.
"I get why some folks are upset that the character's race changed, because if it was the other way around the black community would have eaten them alive. So I get both sides," she said.
Meanwhile, Lelia, an office secretary, said in her view the entire race debate going on right is crazy, given we are talking about a movie based on a fictional character.
"Let's not forget when Brandy and Whitney (Houston) did Cinderella and the Asian-looking prince had a white father and Whoopi (Goldberg) as his mother. I think people need to get over it. If you don't support it, then don't go see it. You really think Disney gonna miss your $10?" she said.
However, Sarah and Catherine had completely different concerns.
Catherine, an attorney by profession, is more worried about plot changes than who portrays the lead character.
"My only question about the new Little Mermaid is whether it will still have her opting to lose her voice for a man," she said.
And Sarah, a local banker, noted that while people have may issues with Halle's skin tone, her only concern is whether the actress has the voice to belt out her favourite Little Mermaid song – "Part of Your World."
But it looks like based on Halle's musical output so far, she should have no problem singing the soundtrack's beloved tunes.
Halle is the younger half of the singing sister duo Chloe x Halle. The sisters got their start posting covers of pop songs on YouTube when they were 13 and 11, respectively. They got a lot of attention with their cover of Beyoncé's "Best Thing I Never Had". Then their rendition of "Pretty Hurts", also by Beyoncé, went viral, and Beyoncé herself signed them to her management company, Parkwood Entertainment.
Halle is currently appearing in the ABC TV show 'Grown-ish', a spin-off of 'Black-ish'.