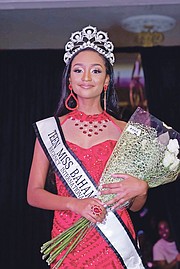 By CARA HUNT
Tribune Features Writer
cbrennen@tribunemedia.net
Kayla Culmer, the newly crowned Miss Teen Regency Bahamas, would like to see more Bahamians become fluent in Spanish.
The 15-year-old At Anne's student has chosen "Making Spanish Aware to Monolingual People Around the World" for her platform during her reign over the next year.
Kayla was the first runner-up in the Miss Bahamas Teenager 2019 pageant and also earned the most community service hours. As a result, she was awarded the Miss Teen Regency title.
She explained her motivation for the platform by outlining all the benefits of the being bilingual.
"Knowing a second language makes your résumé stand out and can boost you to the top of the interview list with potential employers. Speaking another language lets you interact with different people and understand the distinctions of another culture. This means you might have more opportunities to make friends, explore different hobbies and better understand your favourite foreign music, film and literature," she said.
Being able to speak Spanish is becoming more and more important. Together with Mandarin, Spanish is the only language that is able to compete with English because the number of people studying or speaking it is rising. And considering the Bahamas' proximity to America, it is important to note the Hispanic population is the fastest-growing market segment in the US and has grown by 60 percent in just one decade, making Hispanic buying power an impressive $1,000 million.
Numerous studies have found that bilingualism can improve brain functions like the ability to focus attention and perform mental tasks. The benefits of being bilingual are lifelong, but they seem especially important in old age. Cognitive flexibility—the ability to adapt to unfamiliar or unexpected – is particularly valuable.
"Even if you don't travel abroad, becoming bilingual can help you see the world in a different way and understand yourself better," she said.
Kayla is heavily active in many organisations and clubs, including Junior Achievement, the Anchor Club, the Key Club, the Art Club and the Eco School Club.
She has career dreams of becoming a veterinarian, professional model and a marketing and communications analyst. She also loves graphic design.
Kayla is currently preparing to represent the Bahamas at the Regency International Pageant in Las Vegas, Nevada next Summer.
She will have four days of activities in mid-July 2020 and is excited about the opportunity to compete internationally.
Kayla is determined to make the Bahamas, Regency Bahamas Pageants and the Miss Bahamas Teenager Organisation proud.
The mission of the Miss Teenager pageant is to bring out the best in its contestants through training and education, promoting the nation's finest little girls through its annual pageant programme.