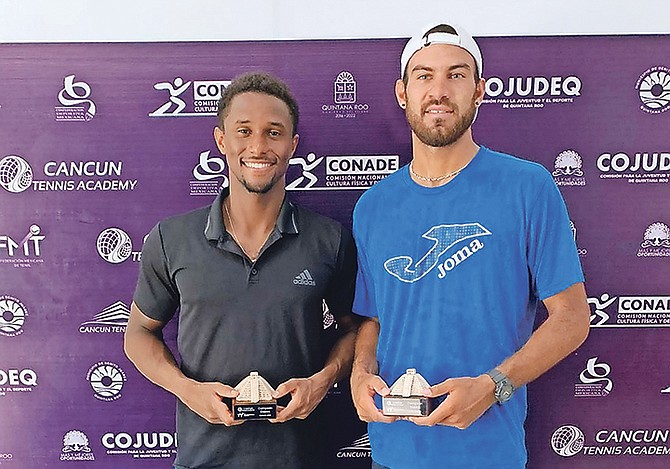 By BRENT STUBBS
Senior Sports Reporter
bstubbs@tribunemedia.net
The third time appearance in the reunion of long-time close friends Bahamian Justin Roberts and Antigua & Barbuda's Jody Maginley turned out to be the charm as they teamed up to win their first International Tennis Federation men's doubles crown.
Playing in the M15 Cancun, Mexico Futures as the No.4 seeds, Roberts and Maginley pulled off a 6-3, 6-2 win over Americans Eric Hadigian and Tanner K Smith over the weekend in Cancun, Mexico.
Roberts and Maginley have been travelling and playing together since they were juniors around 11-12 years old in various International Tennis Federation junior tournaments.
"It was good. The whole week we haven't lost a set. We served very well and we returned very well," Roberts said. "We played good doubles together in the past, so we knew how each other play.
"He's been one of my better doubles partners since we were juniors, so it was good for us to get our first victory in seniors as a team."
The duo won their first round 6-0, 6-2 over Ivar Jose Aramburu from Mexico and Peter Bertran from the Dominican Republic. They then took care of Alexander Jhun of Great Britain and Nicolas Moreno from the United States 6-3, 6-4 in the quarter-finals.
And in the semi-final, they disposed of Rikhardt Bierman of the Republic of South Africa and Ashwin Ryan Sharma of Australia 6-2, 6-2.
"It's good to get the first one for sure," said Roberts when asked why it took so long, considering the fact that he's played so well in doubles in college.
"I'm looking for some more. It feels goods. This was good. It's a good feeling and I'm happy for Jody as well. Hopefully we can keep going and get some more success."
The victory made up for Roberts' exit in the first round of the men's singles where he lost a heartbreaking 5-7, 7-6 (4), 7-5 marathon to American Nicolas Moreno De Alboran.
Maginley, on the other hand, won his first round singles 7-6 (5), 6-4 over Jean Thirouin from France before he was eliminated by De Alboran 5-7, 6-4, 6-2 in the second round.
This was the third week of competition in the series of M15 Cancun, Mexico Futures Tournaments for Roberts and Maginley as they not only played together in Mexico in doubles, but also apart in singles as well.
The first week at the end of June, Roberts got to the quarter-final in singles and the final in doubles, losing 6-7 (5), 6-1 (10-5) to Axel Geller from Argentina and Nicolas Mejia from Colombia.
In their next tournament at the start of July, Roberts reached the quarter-final in singles again and he and Maginley lost in the first round in doubles.
Roberts was back in action yesterday in the qualifying round of another M15 Cancun, Mexico Futures. He won both of his matches and has secured a berth into the main draw that will start either today or Wednesday.
"Playing in these types of tournaments are just like playing in the Dominican Republic or any other place in the Caribbean," Roberts pointed out. "It's really nice. So I hope to brush up on my Spanish a bit and play some great tennis."
The tournaments will be a good warm up for Roberts as he prepares to represent the Bahamas in the men's tennis competition at the Pan American Games in Lima, Peru, July 26 to August 11.
"It'a an honour to be able to represent the Bahamas at the Pan Am Games," said Roberts, who will play both singles and doubles with Baker Newman on the team coached by Bahamas Olympic Committee secretary general Derron Donaldson, a former president of the Bahamas Lawn Tennis Association.
"I look forward to it and giving it my best shot at doing something big for the country. I want to give it my best and do whatever it takes to win and have some fun at it at the same time."
In the meantime, Roberts said he wished he had gotten a wild card into the main draw in this week's tournament in Mexico, but he's confident that the doubles win last week will propel him to perform even better in both singles and doubles as he teams up with Maginley again.