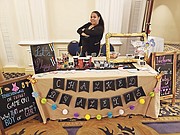 By ALESHA CADET
Tribune Features Reporter
acadet@tribunemedia.net
The best thing about running her own business, says Alexis Hudson, is that there is no one to boss her around. She is fully independent and can pursue whatever ideas she has for her calligraphy business, Chalked By Alexis.
"I'm my own boss. I can work where I want and when I want. However, it does take a lot of self-discipline. But the freedom is what I enjoy most, she told Tribune Woman.
Alexis is an island girl at heart, having grown up in the small settlement of Current in Eleuthera where she was inspired by all the hard-working, strong women all around her.
She now operates Chalked by Alexis as a home-based business located just off Faith Avenue. There, she creates chalkboard designs in different sizes for any event - graduations, birthdays, weddings, baby showers, and more.
She admits starting a business was not easy, and she struggled with self-confidence and confidence and her products.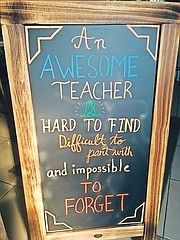 "I was always second-guessing if this is something people would be interested in. But one day I took the leap of faith and just did it, knowing that I'd rather try and fail than to not try at all and have regrets," she said.
Alexis credits her mother, Stacy Wells, with being her main inspiration. As a single mom raising a daughter, she gave up her dreams to work two jobs to make sure Alexis was fully taken care of. Observing how hard her mom works day in and day out has inspired Alexis to do the same.
"Once you work hard at something you reap the benefits sooner or later. Also, in my community in Eleuthera there are hard-working women who I've had the opportunity of observing, whether it was at a job or at home - namely my great-grandmother Doreen Symonette, grandmother Lorna Wells, godmother Susan Martin, and even two other female business owners, Judy Elden and Linda Griffin. When you are surrounded by other strong, motivated and determined women, some of it will rub off," she said.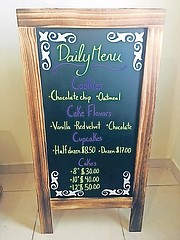 She said the idea for Chalked by Alexis initially stems from a concept she came up with for her graduation from university. Looking for unique ways to make her graduation photos stand out, Alexis stumbled across the use of handheld chalkboards decorated with personal messages.
"This was perfect for me for what I was looking for. However, it wasn't until a year later, browsing through social media, that I kept seeing calligraphy and lettering, and I thought to myself, 'I can do that.' I quickly invested in a book that could teach me a few techniques, thinking this would be a cool hobby. Never did I think that I would finish the book in two weeks. After feeling amazed that I caught on so quickly, I thought to myself, 'hey, maybe I can do this for real.' And that's how Chalked by Alexis was born in June 2018. Since that time, the most memorable client experience was my very first client and her reaction to her board. She absolutely loved it and started to tell others about my work and gave such positive feedback," she said.