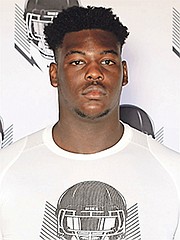 By RENALDO DORSETT
Tribune Sports Reporter
rdorsett@tribunemedia.net
ANOTHER Bahamian student athlete faces uncertainty in his academic and athletic career due to visa issues.
Wardrick Wilson, a four star offensive lineman prospect and incoming freshman for the Florida Gators, did not report for the Summer B early enrolment due to difficulty obtaining his student visa.
Gators head coach Dan Mullen discussed Wilson's predicament at Southeastern Conference Media Day this week.
"Obviously that's going to be a legal issue going forward. We didn't expect that. I mean he's a full qualifier - NCAA qualifier," Mullen said.
Wilson's status is just the latest issue in a series of unfortunate events this offseason for the Gators football programme and specifically, its 2019 recruiting class.
According to the Orlando Sentinel, the Gators now face the possibility of losing a quarter of what was once ranked a top10 nationally ranked recruiting class.
"The biggest (issue for the late arrivals) is making sure they're in shape," Mullens said. "The new NCAA rule helps, so those guys could show up… there are guys that can show up and start doing workouts two weeks before training camp and they don't have to be enrolled in classes now. They come in and start doing in which I think is a great safety precaution for the guys like that."
Wilson moved to the United States in 2016 and at 6'4" 305 pounds, quickly became a rising star on the football field as an offensive lineman. He became noteworthy in the state at Miami's Doral Charter Academy but transferred to Miami Norland before eventually finishing at Miami Carol City High.
"It's a really great feeling and I love it," Wilson told Ryan Green of Gridiron Now on his commitment to the Gators. "I went up there and I fell in love with it and I felt like it was home. I like the campus and I like the fans. They show a lot of love. I felt like it was a really good fit for me. I felt like I could get a good education there and play football at the same time."
Like most Bahamians, his time in the US was focused on the basketball court before he made the transition to football.
"I was originally playing basketball, so I didn't know anything about football until I came over here," Wilson said. "I expected I would have offers, but I didn't expect to have as much as I have now. It's a great feeling because I only started playing football two years ago.
Wilson also received an offer from the Louisville Cardinals and several other SEC powerhouses, including Kentucky, Georgia and Missouri.
"I'm dominant in both run-blocking and pass-blocking, and I work on it every day," Wilson said. "I don't prefer to do one over the other. I just feel that I can do both really well. I'm originally a tackle, but wherever they want me to play, whether it's guard or tackle, it doesn't matter."