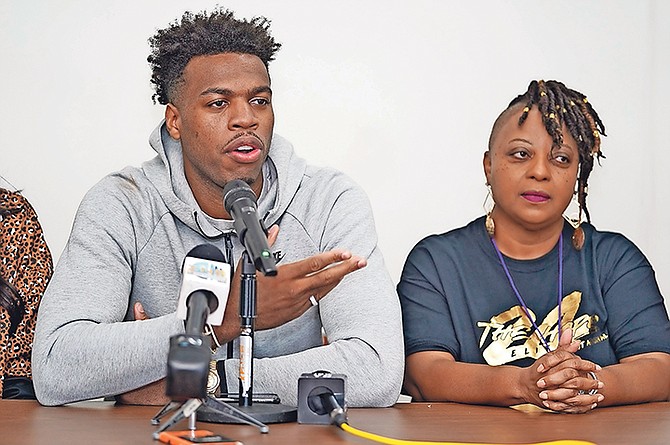 By RENALDO DORSETT
Tribune Sports Reporter
rdorsett@tribunemedia.net
CHAVANO "Buddy" Hield is in New Providence to host another edition of his summer series to give back to the community and showcase the best in young Bahamian basketball talent.
The Sacramento Kings guard is expected to host a series of events centred around his Hope 24 Basketball Clinic, to be hosted July 22-27 at the Kendal Isaacs Gymnasium.
Twenty four of the top high school players in the Bahamas will undergo a week of fundamental training from Hield and his staff.
The week will be highlighted by Break Out 24 Family Fun Day 1pm to 6pm on July 27 at the Kendal Isaacs Gymnasium.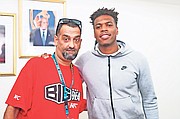 The day will feature the Elite 24 game, the KFC 3-Point Shootout (featuring Hield) and the Rev/Aliv Rock the Rim competition.
"This being where I started from and watching many of these camps and events I always wondered 'why don't we have one of these.' Hopefully we can get it NCAA certified and have NCAA coaches come and take the time off. Who wouldn't want to come to the Bahamas to vacation and watch basketball," Hield said as he arrived in New Providence yesterday.
"We just want to have a greater idea on where these guys can get more exposure. We just want to give them exposure, give them a sign of hope that they can make it. If I can make it, we have guys like Kai Jones – he's going to Texas, you have Franco at Ole Miss – growing up we didn't have all these guys signing to major programmes. DeAndre Ayton was the number one pick. We've made this a trend, we just want to keep it going."
Hield has traditionally hosted summer events in Grand Bahama and New Providence each offseason.
"It's a blessing. As I plan the offseason I always plan to put this in my camp schedule. It's always important to be back home and to give back to the kids and the community. I know what it's like growing up here so being a role model for these kids, giving them a chance to learn something important, something they can take advantage of, it's a priority for me," Hield said.
"I thank God every day for blessing me, being able to use my platform to show these kids what it takes to get to the next level. Hopefully, I can inspire a few to be the next ambassador of the Bahamas whether it's in basketball or some other field."
In his third season, Hield averaged 20.7 points on 46 per cent from the floor, 43 per cent shooting from three-point range and 88 per cent shooting from the free throw line. He also averaged 5.1 rebounds and 2.5 assists in just over 32 minutes per game.
Hield has now made more three-point field goals than any other player in NBA history through their first three seasons in the league with 602. His season total of 278 three-pointers ranks No.7 all-time for a single season and moved him ahead of Klay Thompson of the Golden State Warriors with 276 in 2016.
Hield also set the Kings' single-season three-point field goals record this season when he surpassed Peja Stojakovic's mark of 240.
During his season of milestones, Hield also made his debut in the MTN Dew Three-Point Shootout at NBA All-Star Weekend.
Despite his success at the NBA level, Hield continues his focus both on youth development at home, and the ultimate goal of the men's basketball team advancing to the Olympics.
"We're far behind, but we're getting there, Our goal is to get to the Olympics.
"The federation knows we've been preaching that for the last few years. We have the right coach helping us to lead the way to that.
"We just need to spend more time together," Hield said. "I know during the NBA season me and Ayton cannot play but hopefully the guys we have to back us up can win some games so we can get there and when we start to play summer ball we can elevate ourselves to get to the Olympic level."