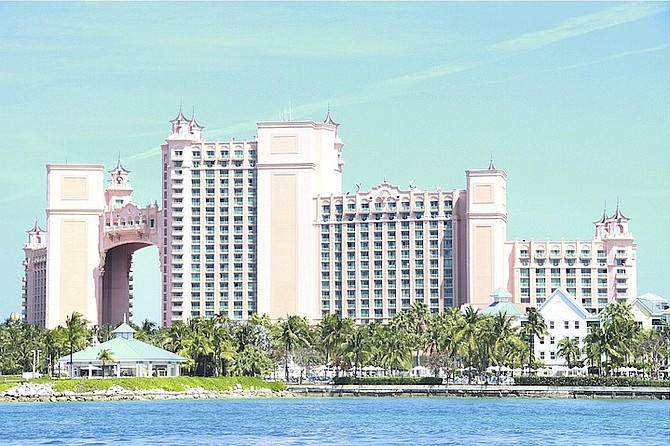 By NEIL HARTNELL
Tribune Business Editor
nhartnell@tribunemedia.net
The hotel union's president yesterday called on any a new Atlantis owner to ensure employees "get a piece of the pie", while voicing optimism that it would "bring stability to the property".
Expressing "no major concerns" over Brookfield Asset Management's continued search for an exit from its Atlantis ownership, Darren Woods told Tribune Business that the Paradise Island mega resort and wider Bahamian economy would likely benefit from a purchaser more focused on brand building and increasing guest numbers.
Disclosing that the Bahamas Hotel, Catering and Allied Workers Union (BHCAWU) had enjoyed virtually no direct interaction with Brookfield, the Toronto-based asset manager that took over Atlantis's ownership via a 2012 debt-for-equity swap, Mr Woods suggested it was focused solely on the resort's bottom line as opposed to growing the brand.
And, while confirming that talks on a new hotel sector industrial agreement had begun and were "going pretty well thus far", the union chief said he had agreed with the resort industry's bargaining agent, the Bahamas Hotel and Restaurant Employers Association, not to discuss the details or progress publicly.
Recent international reports on Brookfield's efforts to sell Atlantis divulge little to nothing that is new, given that Tribune Business reported in February how a previous purchase backed by Qatar's sovereign wealth fund had fallen through.
That confirmed Brookfield is willing to sell if it gets its price and the correct deal, but Mr Woods said of the prospects for a new owner: "We don't have no major concerns because we believe, at the end of the day, that Brookfield is an asset management company which is only holding out until it gets a buyer.
"We hope they will find one cognisant of the industrial climate of The Bahamas, and will look favourably on the employees and protection of their rights. Even though the government cannot intervene or play a part in the sale, they could speak to persons interested and let them know what the labour climate is.
"We don't have closed shop, but Bahamians have rights, investors have rights and they have to work together to achieve the kind of growth we've seen in the industry over the last 18-24 months."
Agreeing that it was time for Brookfield to seek an exit after holding Atlantis for just over eight years, Mr Woods added: "We believe a buyer coming in at this time would bring some some stability to the property.
"We would know who the property owner is as opposed to an asset manager, who has a number that they expect to get and that's what they're seeking to do. We have not had any interaction with them [Brookfield] at that level. We have only seen the fruits of what they've done.
"We've seen numerous changes happening at the property with no consultation with the union. They did what they had to do, and pretty much went ahead and did it. That forced us to do some things we did not want to to, and let them know the union is still there even though they dismissed the union's existence in their minds."
Mr Woods, though, said any Atlantis purchaser needed to ensure its workforce shared in the property's future success. "Anyone coming to The Bahamas comes because they know this is a place they can make money," he added, "but that has to transcend into the employees getting a piece of the pie,.
"The customer experience needs to be superior. We need an owner that's looking at the total package we have to sell. We're more than sun, sand and sea. People return because of the excellent service and experience they get from people in the industry."
The hotel union chief said any purchaser would need to be "better able to market the property under a brand" and bring additional guests to the property, following in the footsteps of original Atlantis developer, Sir Sol Kerzner, and building on his success.
"Say what you like about Sir Sol, Atlantis was a brand and he worked hard to get the word out without being attached to the likes of the Marriott and Hilton," Mr Woods said.
Brookfield Asset Management holds $330bn of global real estate and other properties, among which is Atlantis. More an asset manager of underlying real estate, hospitality and resorts are not its speciality, whereas retail and commercial office space are. It is also thought to have become much more involved in Atlantis's day-to-day operations than it likes.
Brookfield has also twice refinanced Atlantis' debt, the last transaction occurring in mid-2018, and previously sold the Ocean Club to Len Blavatnik's Access Industries to raise principal to pay down that debt.
Morningstar Credit Ratings, the investment analysis firm which assigned the highest 'triple-A' rating to the most senior financing tranches in Atlantis's last $1.85bn refinancing, revealed in a July 2018 report that the resort "feels strongly" that Baha Mar's emergence will not impact its long-term performance after net operating income jumped 27 percent for the 2018 first quarter.