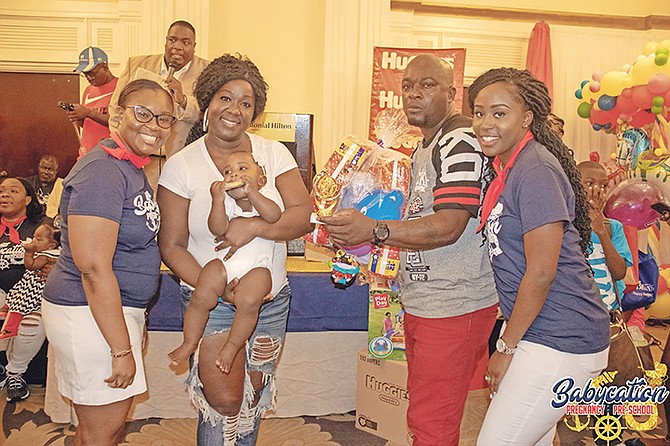 By ALESHA CADET
Tribune Features Reporter
acadet@tribunemedia.net
Parents, and well as moms- and dads-to-be, got to experience a fun 'Babycation' themed event at the British Colonial Hilton.
Presented by Parchomas, the recent mega baby shower and expo was held to show support towards families with children, those expecting, and also for those thinking about starting a family. The event featured a full day of activities that included parenting classes, on-site Q&A sessions with medical professionals, breastfeeding lessons, diaper changing classes, bath tub workshops, body sculpting and detoxing, as well as mommy and daddy massages.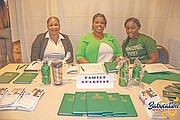 Parchomas (Parent's Choice Bahamas) was founded by Jasadette Hepburn because she felt there was void in the community when it came to a service which supports parents from the first stage of pregnancy, through the birth, and beyond. She wanted parents to know they are not alone.
"We are here to uplift, provide, promote and support the family, by putting on events that like Baby Expo – Babycation, which provided the family unit with the latest information, from the best bottles to use, to how to breastfeed, to the best kids technology, safety advice and development," she said.
"In the 'Diaper Derby' contest there were babies crawling from one parent to the next. Parents were very involved, and even weeks before, they were training their babies (for this). This was taken very seriously with support as big as 15 people per baby. The winner of this year's 'Diaper Derby' race was Tony, and Tony's support team all wore gold shirts with the name his printed on them."
Her goal this year was to also highlight the role of the father in a child's early life, hence the 'Daddy Olympics' exercise.
"You would have to see this to believe It. Daddies took it to another level this year and dived in, literally, to a bucket of ice water. And sometimes that's how parenting can be explained, diving into the unknown. That's why we are here to inform, educate and support. The 'Daddy Olympics' relay was impressive, to say the least," said Jasadette.
Parents not taking part in the race events engaged in activities like taking photos at the Selfie Life Saver Raft station, playing Pictionary at the Chalked by Alexis booth, or building customised Island Bears.
"The Bahamian Culture Reading Comes Alive session by Princess and the Books was amazing for me and it was a significant highlight. A princess adorned in a fully cultural outfit engaged children from ages two to 11 with her story time. The children were so tuned in, it reminded me of the innocence of children and their imagination, and I believe we should always be reminded to let our imagination fly. It was soothing and the kids sat on a rug just as they would during a story time and repeated her word for word. It's like they were hypnotised and sat still," said Jasadette.
Going forward, Jasadette said Parchomas will continue with its training series and workshops, as well as make preparations for the team's upcoming 'Big Latch On' event.