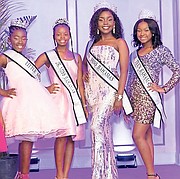 By CARA HUNT
Tribune Features Writer
cbrennen@tribunemedia.net
The Bahamas was the only country in the Caribbean region that managed to take top places in the recent Miss Regency International pageant held in Las Vegas, Nevada.
The group of four Regency queens won platinum and gold in all of the special awards – People's Choice, Academic, Community Service and Title Visibility.
The Bahamian delegation also captured three top five placements, much to the delight of the local pageant organisers who accompanied them.
"They have not captured the crown, they have captured the hearts of many, walking away champions with dignity and pride," said Anishka Lockhart, pageant director.
"We are extremely pleased with their performances and are certain that they left a positive and lasting impression on all those in attendance. The girls carried the Bahamas across their chests with grace and poise and showed that although we are tiny, we are mighty."
Ms Lockhart said the organisation and its queens are very grateful for this opportunity to showcase their gifts, intelligence and talents.
"As they make their departure from the Regency International Pageant, we leave them with this word of advice from Helen Keller: 'Character cannot be developed in ease and quiet. Only through experience of trial and suffering can the soul be strengthened, ambition inspired, and success achieved."
The results for the Bahamian delegation were as follows:
• Little Miss Regency Bahamas Bernea Hart did extremely well at her first international pageant placing fourth runner-up in her division. She won gold for Community Service and gold in Community Service, Visibility and People's Choice.
• Junior Miss Regency Bahamas Sade Lily Francis captured the gold in Community Service and Visibility and second place for People's Choice.
• Miss Junior Teen Regency Bahamas D'mia Darville was the first runner-up in her division, and won platinum awards in Community Service, Visibility, Academic and People's Choice.
• Miss Teen Regency Bahamas Paige Rahming was the third runner-up in her category and received platinum awards in Community Service, Visibility, Academic and People's Choice.