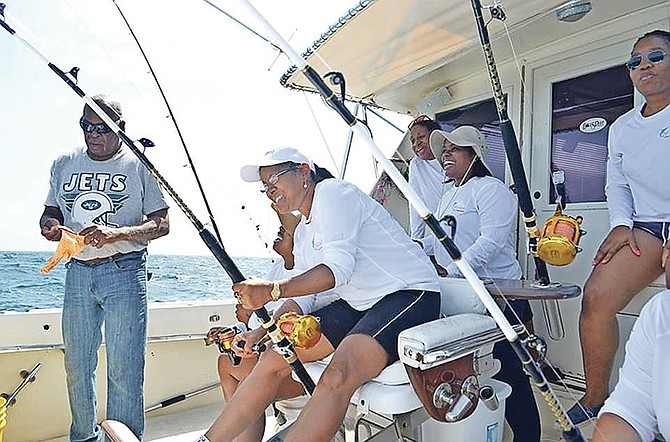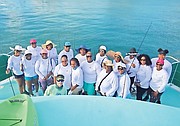 By ALESHA CADET
Tribune Features Reporter
acadet@tribunemedia.net
Fishing is a tradition very much ingrained in the culture and history of the Bahamas. Yet in 2019, it is an activity and industry and that is still dominated by men. For various reasons, only very few Bahamian women learn how to fish.
But the Off Da Rock Ladies Fishing Weekend has been trying to change this. For the past four years, this event has been held to encourage women to learn the fundamentals of fishing in a safe and casual setting.
This Friday, women will once again be encouraged to "get up, get out and get off da rock" for the fourth annual Ladies Fishing Weekend featuring new activities and experiences.
The three-day event, which will take place in North Andros this time around, typically starts off with a meet and greet where participants get to know the instructors and boat captains. There will be hands-on learning activities that include lessons on how to tie knots, rig a line, bait selection and casting. For the women, a fishing day will conclude with putting into practice that which they have learned.
Alexandria Newbold, founder of the Off Da Rock Ladies Fishing Weekend, came up with the concept in 2015 "to encourage women to fish by providing them a safe space to learn to fish without judgement and ridicule."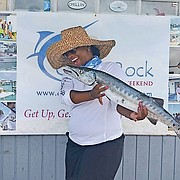 "We also discuss with participants the importance of conservation and the economics of fishing, and use this platform to raise funds to support our chosen charitable endeavour, which has been BASRA (Bahamas Air Sea Rescue Association) for the last few years. We were able to donate $500 one year and hope as we continue to grow do more and add others," Alexandria told Tribune Weekend.
She is extraordinarily pleased that Off Da Rock Bahamas has come this far, with the event growing each year with returning women who are now as addicted to fishing as she is, and with new participants eager and looking forward to the experience.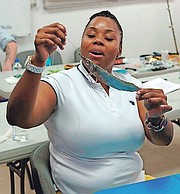 "We have good instruction and they quickly figure out how to hold the rod and feel for the fish nipping at the bait. Now, when we are trolling for bigger fish and there is a fish on the line and the ladies have to fight to get it in the boat...whoa. It is pure excitement watching them reel the fish in, thinking they are too tired, but eventually landing the fish. So it is very satisfying to see them do something they did not think they were capable of doing," she said.
Alexandria thinks Bahamian women generally do not fish
"I think this lack of exposure results in missed opportunities for women to become involved in the commercial industry – whether fishing commercially for food or as an entrepreneur in the charter sport-fishing industry. It is also a loss of a leisure activity that could enhance well-being and mental health, as fishing is a relaxing hobby providing respite. Women who have participated in the Weekend leave with a sense of accomplishment that they have gone out and conquered a new activity. They feel empowered to go out on their own or with the men in their lives and are confident in their new skill. I believe that if you 'teach a woman to fish, she feeds the entire family', and in our culture that means she is feeding the entire community. And it is not just through having a food source," she said.
For this year's instalment of "Off Da Rock", Alexandria is looking forward to giving participants the island fishing experience where they can throw a line out from the shore and get a catch.
"I think it will give them a new appreciation for the sport, so I am also looking forward to that. Most importantly, I am looking forward to growing the brand. In addition to the fishing, participants will go crabbing and be exposed to the work of some of the local craft persons – straw works and plaiting, and wood carving. I will also be teaching them how to clean and fillet and store their catch," she said.
Based on the overwhelming response following the announcement of this year's fishing weekend, Alexandria said she has decided it is time to expand the "Off Da Rock" franchise to more than one event a year. Therefore, this year's Weekend will act as a model that will be replicated throughout the islands of the Bahamas, targeting domestic and international participants/tourists. The new "Off Da Rock Bahamas Ladies Fishing Adventures" will then officially be launched in November.
"Only a few more participants can be accommodated at this late stage this weekend, but persons can message me on Facebook or Instagram or send an e-mail to alex@offdarockbahamas.com. Most persons going on the trip this year are new to the event, so I have told them to come to ready to fish; appropriate clothing they can get wet – hats, sunglasses, sun block and lots of mosquito repellant. 'Off Da Rock' will provide the gear and guide. Each participant receives a rod and reel setup to keep, an event shirt, and a gift bag," said Alexandria.