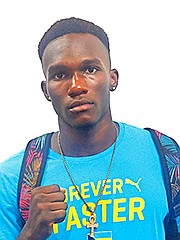 By BRENT STUBBS
Senior Sports Reporter
bstubbs@tribunemedia.net
TWO of the three defending champions will headline the Boxing Federation of the Bahamas' eight-member team to the Bert Sugar Elimination Tournament this weekend in Punta Gorda, Florida.
While Ronald Woodside is sidelined with an injury that will prevent him from making the trip from Thursday to Monday, Lennox Boyce and Carl Hield, two elite boxers in the 64 and 69-kilogram classes respectively, are expected to head the team.
Federation president Vincent Strachan will serve as the team manager and Boyce and Hield will be joined by novice competitors Elizabeth Hutchinson (140 pounds), Patrick Joseph (130 lbs), Vashaun Johnson (133 lbs) and Keith Major (165 lbs).
Former heavyweight boxer Kieshno Major will be making his first stint in his new role as the head coach. He will be assisted by Wellington Smith, the treasurer of the federation.
"These boxers who qualify would advance to the National Championships in November in Orlando, Florida," Strachan said.
"Last year, the Bahamas won three championship belts with Lennox Boyce, Carl Hield and Ronald Woodside. Woodside would not be travelling with the team, therefore, would not be able to defend his belt."
Boyce, a 20-year-old 2016 graduate of Anatol Rodgers High School, said he's not going to underestimate any of his opponents when he competes this year.
"It's just about being ready no matter whoever I am faced off against," he said. "They have some experienced boxers, but I only look forward to fighting against the best, being able to prove myself worthy of going to the Olympics, so I'm not into ducking anybody."
At this point in his training, Boyce said his preparations have been on par and he's down to his weight class, he's eating properly and is training very well. But he admitted that there is still a lot of room for improvement.
"No matter what you do, there is always room for improvement," he said. "Over the years in training, I noticed that you can always look at certain things to sharpen your training and reflexes."
Having gotten his feet wet last year in the Bahamas, Boyce said he knows that everybody will be gunning for him this year, but he proclaimed that he will be up for the challenge.
"Everyday I learn something new, a new technique, whether it be my speed or I learn to pivot better inside the ring," he said.
"Last time I was a little nervous and was on the edge. But now I'm really used to it and I'm prepared to do my best and be victorious."
Strachan said the team is in high spirits and is looking forward to competing from Friday to Sunday. He thanked Minister of Youth, Sports and Culture Lanisha Rolle for ensuring that funding was made available to assist the team in their travel.
"The majority of the team members are novices and would be properly matched with boxers of similar experience," Strachan said. "Patrick Joseph, the high schooler from Anatol Rodgers High School, is very confident and would represent his country and school with pride."
Boyce, who is trained by Ray Minus Jr at Champion Boxing Club and Hutchinson, trained by Kieshno Major in his Aftershock Boxing Club at the National Boxing Gym, are both graduates of Anatol Rodgers.
Harcourt McCoy, the principal at Anatol Rodgers, was commended by Strachan for taking the leadership role in pushing their students to be trained by Major and Stevie 'the Heat' Larrimore, who is grieving the loss of his father.
Strachan said the entire team is confident and looking forward to advancing to the championship round in Orlando in November.
He said the Bahamas has already established its position in the Bert Sugar tournament and they hope to continue the legacy.
While in Grand Bahama, Strachan said they will hold discussions to host the event in the Bahamas next year. Additionally, he said on their return home, they will be working on completing the deal for an international tournament, featuring four nations from June 27 to July 1.
Strachan said he's pleased to have Smith in his corner as the treasurer and will be assisting the team in Florida.
"Boxing was something in my blood for many years," Smith said. "One time ago, I used to be a Bahamian wrestler. So I spent a lot of time in the gym training. I also did some boxing against guys like Kidd Barr."
Smith revealed how he was able to get at least nine boxers to train under Ray Minus Sr and he purchased some equipment to assist in their training. As a philanthropist, he also sponsored two planes to take a number of boxers to compete in Abaco in a tournament organised by Silbert Mills.
As a basketball enthusiast, Smith sponsored a number of teams as well, including the CI Gibson Rattlers, CR Walker Knights and RM Bailey Pacers with tickets to international tournaments and he also coached in the small schools association.
He said once Miller, whom he worked with the past, was returned as president, he decided to come back to boxing and will continue to make a contribution to the growth and development of the sport.