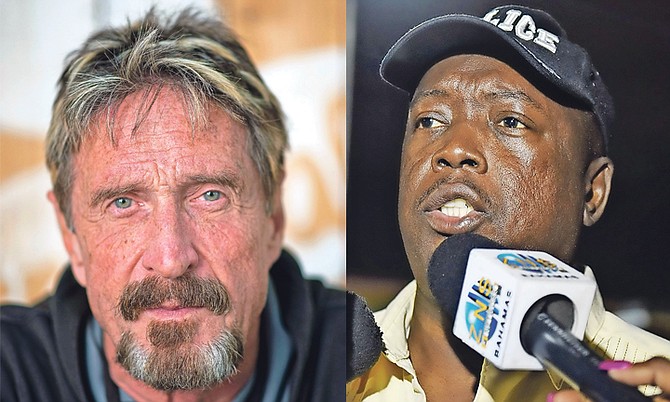 By Khrisna Russell
Deputy Chief Reporter
krussell@tribunemedia.net
ACTING Deputy Commissioner of Police Paul Rolle has threatened to take action against Bitcoin millionaire John McAfee after he unleashed a tweet storm over the last few days, making damaging claims about corruption in the US government and Bahamian officials.
Mr Rolle yesterday denied the allegations made about him on Twitter by Mr McAfee, who is described on international news sites as a "fugitive of the law" for US tax evasion. During Mr McAfee's Twitter rant, Mr Rolle and Royal Bahamas Defence Force Commodore Tellis Bethel were named.
While Commodore Bethel said yesterday he was aware of Mr McAfee's accusations, he declined comment, telling The Tribune the matter has been referred to the police.
For his part, Mr Rolle said he planned to file a lawsuit as the tweets are potentially damaging to his reputation.
He further denied knowing Mr McAfee or having any dealings with institutions he named in the tweets. The tweets were also circulated on other platforms – WhatsApp and Facebook.
"It was brought to my attention last evening a series of WhatsApp messages from an individual making accusations about some payment to me," Mr Rolle said in a statement released on Monday. "I wish to say categorically that I do not know these persons nor have had any dealings with them or the institution of which he or she spoke and have not received any monies from anybody in relations to any government contract.
"I have no dealing with contracts other than to investigate alleged corrupt acts by persons involved. I have no business relationship with Fidelity Bank and have no idea of what the person speaks. If the individual or any of the institutions mentioned have information or evidence purporting to support their claims, I invite them to take it to the authorities."
Mr Rolle, head of the Royal Bahamas Police Force's Anti-Corruption Unit, further criticised those who use social media irresponsibly.
"I just wish to say that I am aware that media plays a constructive role in today's society – from increasing public awareness to collecting views, information, and also the attitude of the people towards certain issues. I also understand that media can aid in promoting the right things at a right point in time or can make use of any situation to create disturbance around the people or in the country.
"The Bahamas constitution provides fundamental rights and freedoms but subject to respect for the rights and freedoms of others, to freedom, of expression. I do, however, have grave concerns for the misuse of social media by some who lack the moral fortitude to do right and ignore the rights of others and take pleasure in the use of the various mediums to malign and defame the reputation and character of others.
"I wish to encourage every citizen and resident to strive to make responsible use of social media for good and abhor the destructive and divisive behaviours that have become so prevalent in our Bahamas. There are those who chose to use the media and social media to launch personal and insinuated attacks against me. Some of it by persons whom I held in high regards and some by those whom I don't even know and by others whom I dare say don't know me. This is most unfortunate.
"These latest allegations serve to demonstrate just how low some people would go just to make a point. We must as a people abhor the tribalism and cannibalism of each other. I will be making formal complaints to the relevant agencies," Mr Rolle said.
In his Twitter rant Mr McAfee also warned the US government to leave him alone or he will "f*ing bury" them. He claimed the US Department of Justice is compiling a bogus case against him for money laundering, racketeering and murder.
He tweeted: "From friends in the State Department: The DOJ trumped up charges against me for murder, money laundering and racketeering…A conspiracy is unfolding. Proof coming."
"I've collected files on corruption in governments. For the first time, I'm naming names and specifics.
"…If I'm arrested or disappear, 31+ terabytes of incriminating data will be released to the press."
John McAfee is a British-American businessman and programmer who founded software company McAfee Associates in 1987 and ran it until 1994 when he resigned.
In January, he tweeted that he had not paid US taxes in eight years. He also announced at the time that he planned to run for the US presidency.