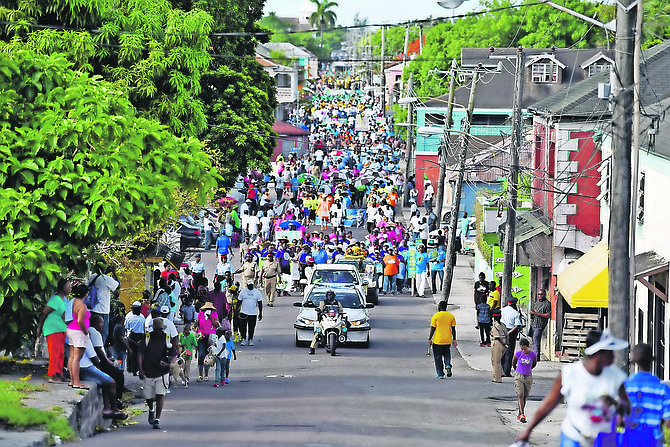 By Khrisna Russell
Deputy Chief Reporter
krussell@tribunemedia.net
KATHERINE Rodgers says her family has struggled to rewrite life a year after her loving and strong sister was tragically taken in an accident at last year's Randol Fawkes Labour Day Parade.
The narrative is simply incomplete, she said, because Kathleen Rodgers' laugh can no longer be heard, her smile never seen again and her outspoken nature gone forever.
Last year a truck mowed into a crowd causing the deaths of Rodgers, 51; 41-year-old Tabitha Haye; 48-year-old Tami Patrice Gibson and Dianna Gray-Ferguson, 55.
Eight people were also injured as a result.
"Honestly, it's rough," Ms Rodgers told The Tribune on Thursday, the day before thousands of workers prepared to march in honour of employees' rights in the country. 
She said emotions were running wild.
"It's not just dealing with one day. The Labour Day march is coming up and it's just so much different emotions, you laugh then you cry. It's a roller coaster of emotions."
But there may have been a silver lining in the midst of tragedy, she said.
"Her death has brought us closer as a family. You now know not to take anyone for granted because you never know where death is or who it would take and so we just learn to appreciate everyone, tell them you love them.
"She was such a strong and outspoken person until it's like a part of her is just coming out in each and every one of us. When we see it we just laugh and say look how she came out in you.
"She was always the outspoken one. A lot of us just wouldn't say anything but now we find ourselves just being outspoken and it's just like she is here because we see her in each and every one of us."
Kathleen Rodgers left behind two children, three grandchildren, three brothers and two sisters.
While the family is closer now than ever before, her sister said the road to healing and closure seems harder to attain.
Friday's Labour Day Parade honoured the women.
Thousands in both New Providence and Grand Bahama honoured them with the theme "Four Fallen Sisters". Wreaths were also laid near where the tragedy took place.
Among them were presidents of major unions, who told reporters this year's events were significant, although sombre. 
Bahamas Union of Teachers president Belinda Wilson said the tragedy has forever changed labour movement celebrations.
She said: "This is a very sombre parade and I am honoured that we are able to just pause to honour our four fallen sisters and they've actually changed, I think, the mood and the modus operandi of the labour day parade going forward. 
"But we just want to thank them posthumously for what they would have done for the labour movement and their unselfishness and so today we are going to honour and celebrate them."
Darren Woods, Bahamas Hotel Catering and Allied Workers Union president, added: "As we remember our fallen colleagues, it was unfortunate last year and also from our union we are also remembering our trustee who we lost on January 3 this year. 
"So for us it's kind of a fulfilment - a closure for the movement as a whole and just for us as a whole to recognise that some things happened and now we are paying respect to the persons who would have lost their lives tragically last year." 
Shortly after 10am on the date in question, participants in the annual Labour Day parade was walking north on East Street in the vicinity of Shirley Street, when a green Ford F150 truck, which was a part of the parade, descended the hill towards Shirley Street.
The vehicle, which at the time reportedly had no driver, ran into a number of people who were a part of the parade, resulting in them receiving injuries. The vehicle came to a stop after hitting a Nissan vehicle, parked in a nearby parking lot.
Two people were pronounced dead at the scene, while 26 others were taken to hospital. Two women later died at the hospital, which was forced into mass casualty mode.