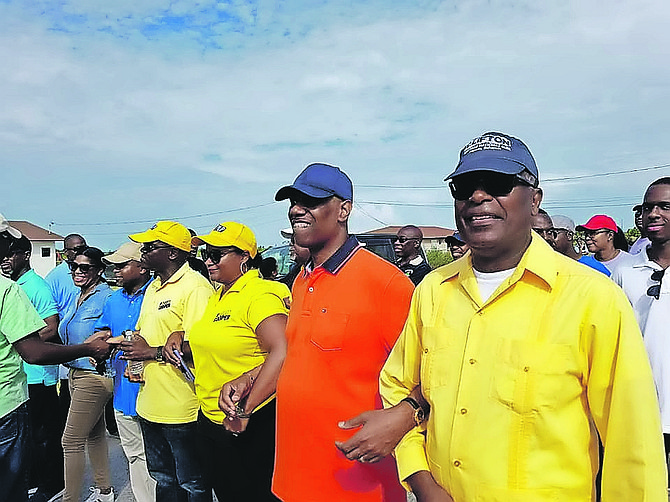 By Denise Maycock
Tribune Freeport Reporter
dmaycock@tribunemedia.net
A PHOTO circulating on social media of Rev Frederick McAlpine marching arm-in-arm with Progressive Liberal Party Senator Fred Mitchell and other PLP supporters at the Labour Day march in Freeport has created a buzz, with many wondering if the controversial FNM MP has switched sides.
However, Mr McAlpine shot down the speculation and said the situation spoke to his political maturity, not affiliation. 
Mr McAlpine - who is at odds with his party - has been critical of party leader and Prime Minister Dr Hubert Minnis on several issues. In particular, he voted against the increase of value added tax (VAT) which got him fired from his post as chairman of the Hotel Corporation in 2018.
In Grand Bahama, at the Sir Randol Fawkes Labour Day March on Friday, Mr McAlpine, Free National Movement MP for Pineridge, was seen marching with PLP supporters, and was not with his FNM parliamentary colleagues, including Minister of State for Grand Bahama Senator Kwasi Thompson and MPs Pakesia Parker-Edgecombe and Iram Lewis.
Later, at a rally site at the YMTA Centre, Mr McAlpine did not sit with them, but rather among PLP supporters who were dressed in their party's colours.
When asked about the photo of him locked arm-in-arm with PLPs, Mr McAlpine told The Tribune on Monday that the event was about labour and workers of the country, not about political parties.
"I was on the line walking on one end and they (the union organisers) asked us to lock hands as we were entering the labour rally site. Labour Day is about the people, and not political parties," he explained.
"It speaks to my political maturity; there was nothing political about it. I just happen to be standing in that vicinity when at that moment they asked us as we were entering the labour rally site to lock hands, and Senator Fred Mitchell was there at the time.
"It is not an indication of my political affiliation," said the FNM backbench member of Parliament. 
When asked his feelings about labour issues in the country, he said: "I think there is so much union unrest in the country; they are dissatisfied with the government's handling of matters, and my hope and expectation is that government seeks to resolve or remedy the many labour unrest throughout the country."
Aside from criticising the government over the VAT increase, Mr McAlpine also was against the gesture extended to Dominica by Prime Minister Dr Hubert Minnis for hurricane victims to be temporarily relocated to the Bahamas following the widespread devastation caused there by Hurricane Maria in 2017.
At the time, he said while Bahamians supported offering some form of assistance to Dominica, they wanted to be assured their needs would not be overlooked by their government in order to "cater to the needs of another country".
The Pineridge MP was also critical of the prime minister for calling other parties corrupt as Dr Minnis did regarding the PLP while speaking at an FNM meeting in Grand Bahama, earlier this year.
And, he called Dr Minnis out for failing to address the situation about the involvement of National Security Minister Marvin Dames and Health Minister Dr Duane Sands in the Frank Smith extortion/bribery trial, amidst the government's stance on anti-corruption.
Mr McAlpine believed that a government preaching anti-corruption should not have the appearance of corruption, and felt that the prime minister should have fired the ministers or asked them to resign.
In February, Mr McAlpine also hit out at Dr Minnis, likening the nation's leader to a coach keeping a "good player" on the bench due to "personal or petty" reasons.
Despite his frustration with the FNM, Rev McAlpine insisted at the time that he is still a member of the governing party.