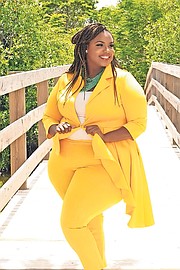 By JEFFARAH GIBSON
Tribune Features Writer
jgibson@tribunemedia.net
WEIGHING 320 pounds, Sherell Brown could not get up a flight of stairs without hanging on for dear life. At the same time, her husband was diagnosed with leukaemia, her daughter developed asthma, and doctors believed her son had autism.
But while her family's diagnoses were addressed and their conditions treated, Sherell's weight remained a burden that was beginning to affect her heart.
"Sickness in all forms has attacked my family and it was time to fight back. After much prayer, fasting, one by one each of those doctors' reports started to turn around, but in my case obesity was nothing I could pray away; I had to put in the work because I was on the verge of a heart attack," the former police officer turned speaker, author, and health coach told Tribune Woman.
Sherell began changing her eating habits, started running daily and drinking more water.
"It was (because) of my own struggle that I realised there is a war going on and we can either eat to live or eat to die; the choice is ours. See, the fact of the matter is in order to change the fruit of a thing we must change the root of a thing. And in this case the fruit that we are seeing in our society amongst our people and in ourselves is called obesity, but obesity is not the root cause," she said.
Once she lost the first 20 pounds, shedding the remaining 80 became much easier. And since losing the excess weight, Sherell has been waging war against obesity in her very own way.
In 2016, she founded the "The War Against Obesity - The Cause" in Murfreesboro, Tennessee, where she now resides. The organisation's purpose is to motivate, educate and inspire people "to eat to live and not to die".
"After what seemed like a lifetime of personal struggle with obesity this was my way to give back and help others defeat the enemy that was taking so many people to there graves,' she said.
Since then the foundation has hosted the first "War Against Obesity - The Cause" awards ceremony in Vero Beach, Florida, where 40 people from the arenas of health and wellness were honoured.
And now Sherell is bringing the awards home to Nassau. A special reception will be held on July 26 at the National Art Gallery of the Bahamas. Professionals from the local health and wellness industry will be honoured for their excellence in service.
Those being honoured will receive a reward along with the published copy of the organisation's international publication, the 'LOSE - Health & Wellness' magazine.
"When I started to address my own weight issues I had to address issues why I was an emotional eater, what caused the result that I am now seeing in my life and how to change it," she said.
"This cause is about awareness, and until we become self-aware there are consequences to our actions, for example bad eating habits and abuse of food. Nothing will change and healing won't begin. But personally, the truth of the matter is it is still a war. I just had my third child and gained 50 pounds, so I am just like the average person out there. You may fall down, but you can always get back up again. And I invite you, let's do it together."
All of the honorees at the upcoming awards ceremony are Bahamians who have made it their life's work to educate, motivate and inspire others to take better care of their bodies.
"It is my belief that we are to give honour where honour is due, and these people who will be honoured are certainly worthy of such, not based on what I, say but based on the people," said Sherell.
"We went to social media and announced that nominations were open that we are looking for persons who have displayed and have given excellence service in the health and wellness industry, people from every field, and the people that will be honoured that night are the Bahamian people's choice: Jamal Moncur, Ominique Charmaine, Macumbla Smith, Aisha Nesut Ani, Jomar Farquharson, Kryshanda Bethel, Derek Bullard, Janetta Martin, Donovan Sherman, Donavan Ingraham, Julio Hall, Jeffery Rahming and Dion Rahming."
The awards ceremony is a ticketed event and tickets can be purchased at Essentially Alkaline on Alexander Street in Palmdale.
For more information, e-mail thewaragaistobesitythecause@gmail.com.