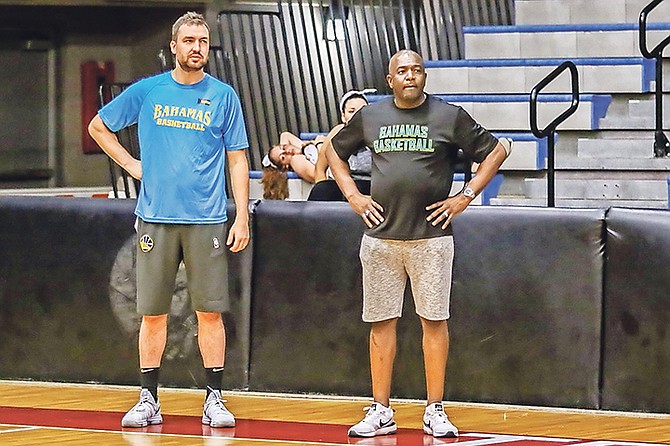 By RENALDO DORSETT
Tribune Sports Reporter
rdorsett@tribunemedia.net
THE newly named Bahamas senior men's basketball national team head coach, Chris DeMarco, outlined his vision for the programme and the growth of local basketball.
Currently a player development coach and assistant coach for the Golden State Warriors, DeMarco had a first-hand opportunity to interact with the national programme when he served as an assistant coach for the Bahamas during the third window of the 2019 FIBA World Cup Qualifiers.
"My coaching experience at the World Cup Qualifiers last summer allowed me to see first-hand how skilled, passionate and tough-minded the Bahamian players are. As a group, they're very high character individuals on and off the court. I believe the programme will continue to grow under Mario Bowleg's leadership and we have a shared vision of our goals moving forward," he said. "There is an excellent coaching staff already in place led by Norris Bain. The combination of our talented players along with the programme's strong staff makes this job extremely attractive. There are plenty of highly-skilled players from the Bahamas that are not currently playing in the NBA. Whether they're competing overseas, in college basketball, or at the high school level, it is our job to find the most talented athletes available. It will be important for us going forward to identify the players who give us the best chance to compete and ultimately win the biggest tournaments."
DeMarco began his coaching career with the Warriors in 2012 as the team's video scout. Since that time he has steadily progressed through the organisation and recently served as the team's Las Vegas Summer League head coach in 2017.
"Our coaching staff, BBF president Mario Bowleg and technical director Steve Barnes will continue to build a game plan that will give us the best chance to succeed in the future. Though our focus will certainly be on upcoming competitions, there will be a long-term vision for Bahamas Basketball as we continue to cultivate the programme," DeMarco said.
"There will be a major emphasis on youth development, not only in preparation for the senior team, but also for their own basketball careers. Our focus from the start will be on constructing a programme where our junior teams reflect the concepts of our senior team. It is crucial that we continue to teach and develop our younger players so that they can be successful wherever they play, but also to build chemistry and familiarity as they move up the ranks within the programme."
DeMarco played collegiately at Dominican and, in his senior season, started in all 29 games averaging a team-high in both points (14.9) and rebounds (9.6) per game, while shooting 54 per cent from the field.
With his 9.6 rebounds per game, it was 16th best in the nation which garnered a NAIA Division II All-America Honourable Mention.
In 2009, DeMarco graduated from Dominican with his business degree and in 2011 obtained his Master of Business Administration.