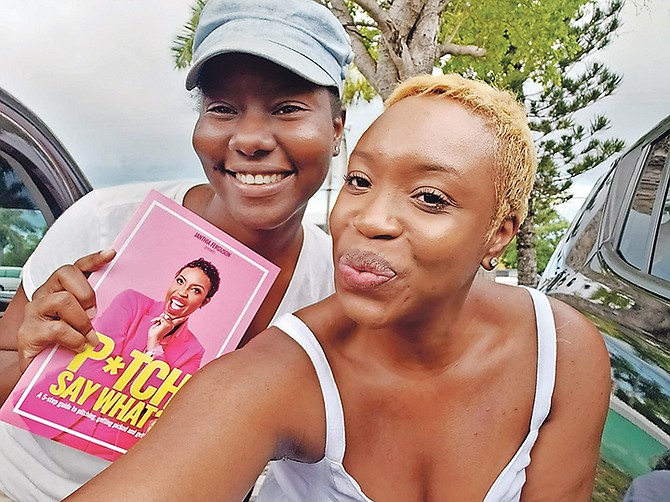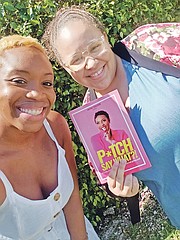 Bahamian media maven Ianthia Ferguson has quickly gone from blogger to author.
Recently, the travel and lifestyle writer published her second book: a fun manual that aims to help to take freelancers and creatives from waiting on their big break to making it happen.
You may have seen the photos; people all over New Providence posing and smiling with a bright pink book in hand, with Ianthia's face emblazoned on the cover.
Ianthia said this book, which is available in both print and e-book formats, explores the sometimes scary world of being a freelancer in any profession, while sharing the formula she used to break through the thick barriers keeping her from working with her favourite publications.
"If you're a writer, chef, photographer, editor, model, graphic artist, designer, anyone, this colourful, easy-to-read page turner provides a roadmap for getting your work seen by the people who need to see it," she said. "In five fun chapters I flesh out the process I took to land me writing gigs with Forbes Travel Guide, Essence.com, XONecole, and now Travel Noire; all online magazines and sites I've been dreaming of working with."
As a freelance writer, Ianthia said it's a part of her daily job to pitch her portfolio to publications and hope and pray that the editor on the receiving end likes her work and responds to her e-mails. Unfortunately, she said, this wasn't always the case, and early in her entrepreneur journey she either got a 'no' or zero response to her inquiries.
"I know firsthand how hard it is being a freelancer and wanting to work with people you admire. I've been pitching my writing for so long and everything seemed to be going into this black hole. I couldn't get a response to save my life! But after I literally dissected my e-mails, figured out what I was doing wrong, changed up my format and slid in some DMs, I finally got those same publications who ignored me to hire me on the spot," she said.
"In the book I share the actual e-mails that I sent; the ones that got denied and the ones that got accepted, and you can clearly see the difference, you can see the growth. So in this book, I give all of these gems to my readers."
The author said the five chapters in "Pitch Say What?! aim to teach readers how to compile their portfolio, how to get the e-mail addresses they need, how to use social media to network with the right people, how to choose the best pieces of their work to submit, and how to craft the perfect e-mail.
"Pitching is oftentimes a very intimidating thing to do and a lot people talk themselves out of it for fear of rejection or they just don't think they're good enough. I think this book will help readers to get the confidence they need to get over their fears, especially when they see how I was able to overcome sending some pretty bad pitches, riddled with typos and grammatical errors. There are so many amazing collaborations and partnerships waiting to happen, and with the perfect pitch creatives of any profession can cash in on them," she said.
Ianthia recently attended Summit 21, a blogger and entrepreneur conference, in Atlanta, Georgia, where she got the opportunity to put her book in the hands of some international bloggers, authors and entrepreneurs.
"Pitch Say What?!" is available on Amazon as a digital read or you can order a print version. Ianthia is also selling copies locally, and will soon host an official launch party for her latest book.
"This is my second book. "Create. Post. Push." (the first book) is a free e-book available for download on my website, but this new one is in print," the author said.
Ianthia won the 2018 and 2019 Elevation Award for 'Blogger of the Year' and was listed among the Bahamas' 2017 top 40 under 40 influencers.
She can be found on all social media platforms by her handle @iamianthia or on her website, ianthia-smith.com.