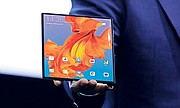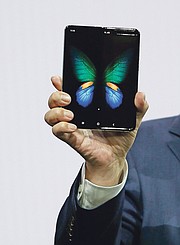 (AP) China's Huawei unveiled a new folding-screen phone on Sunday, joining the latest trend for bendable devices as it challenges the global smartphone market's dominant players, Apple and Samsung.
Huawei revealed its Mate X phone on the eve of MWC Barcelona, a four-day showcase of mobile devices, as the company battles US allegations it is a cybersecurity risk.
The device can be used on superfast next-generation mobile networks that are due to come online in the coming years.
Device makers are looking to folding screens as the industry's next big thing to help them break out of an innovation malaise, although most analysts think the market is limited, at least in the early days.
Last week, Samsung unveiled its own smartphone with a foldable screen, the Galaxy Fold, in San Francisco.
The Mate X is the answer to a question Huawei faced as it sought to satisfy smartphone users' demands for bigger screens and longer battery life, said Richard Yu, CEO of its consumer business group.
"How can we bring the more big innovation to this smartphone industry?" Yu said at a glitzy media launch.
The Mate X will sell for 2,299 euros ($2,600) when it goes on sale by midyear. That's even more than the Galaxy Fold, priced at nearly $2,000.
The Mate X's screen wraps around the outside so users can still view it when it's closed, unlike the Galaxy Fold, which has a screen that folds shut. Unfolded, the Mate X's screen is eight inches diagonally, making it the size of a small tablet.
Yu said Huawei engineers spent three years working on the device's hinge, which doesn't leave a gap when shut.
The Galaxy Fold will sell for $1,980 when it is released April 26.
It can work like a traditional smartphone with a 4.6 inch screen or morph into something more like a mini-tablet with a 7.3 inch screen.
When fully unfolded, the device will be able to simultaneously run three different apps on the screen. The Galaxy Fold will also boast six cameras: three in the back, two on the inside and one on the front.