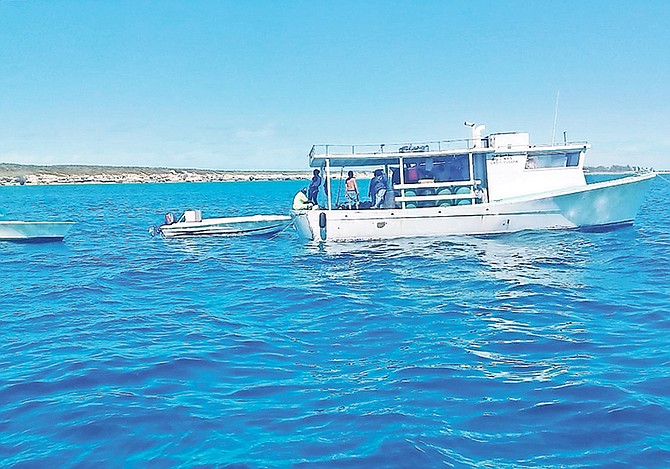 By AVA TURNQUEST
Tribune Chief Reporter
aturnquest@tribunemedia.net
FIVE Bahamians and three other men were arrested over the weekend after they were found fishing in a protected marine preserve in the Berry Islands with scores of conch on board their vessels.
The arrests come as the Ministry of Agriculture and Marine Resources plans to cut conch exports and dramatically increase enforcement with an additional 26 fisheries officers.
"The ministry has made a determination to marginally reduce the quotas for export this year," said Agriculture Minister Michael Pintard, who added officials were holding consultations on appropriate preservation measures.
"We will more dramatically reduce these exports in 2020 and 2021," he continued.
"I'm advised that exports of conch constitute one-fifth of all conch harvested."
The Royal Bahamas Defence Force apprehended the men on two separate vessels around 10.30am Friday in the area of Whale Cay in the Berry Islands.
They were responding to reports of illegal fishing activity.
Marines discovered a 19-foot skiff with three men onboard, and approximately 50 conch and other fishery products. The second vessel was found in the same area, a 46-foot fishing vessel named "Lady Yvonna," with five Bahamians and approximately 500 conch onboard.
The nationalities of three of the men are unknown at this time, according to the RBDF statement, which identified the other men as Bahamians.
Last June, six Americans were charged and fined for illegally fishing in the Exuma Cays Land and Sea Park onboard a 63-foot American-registered pleasure craft.
Yesterday, Mr Pintard noted while poachers – and to a lesser extent some American sports fishers and leisure cruisers – have wreaked havoc on marine resources, Bahamian fishermen have also contributed to threatening stocks by capturing undersized conch and cracking conch on the sea bed.
He continued: "We are reviewing all the scientific studies recently conducted, but are convinced, based on earlier findings, that there is a significant problem which, if left unchecked, would result in the depletion of these resources.
"The conch stock in proximity to densely populated islands – and some sites that are historically very popular – has been under tremendous pressure for years and it shows. "Fishers are generally travelling further and in deeper waters to harvest the quantities they are accustomed to. We are also actively engaged in stakeholder discussions about the possibility of requiring fishers to make preparation in future to land conch in the shell. This appears to be the only way of measuring lip thickness which is an indicator of the maturity of the conch.
"There is no substitute for education and therefore we are continuing dialogue with all stakeholders so that we are all informed by careful research," Mr Pintard added.
In January, it was reported that researchers believe the local conch supply could be wiped out in 10 to 15 years.
The Chicago-based Shedd Aquarium group found from its research on more than 3,000 conchs at 42 survey sites throughout the Bahamas between 2009 and 2017, that not only are the numbers of adult conch decreasing, but the densities of legal-to-harvest queen conch are now far below the established minimum threshold for reproductive success, except in the most remote areas.