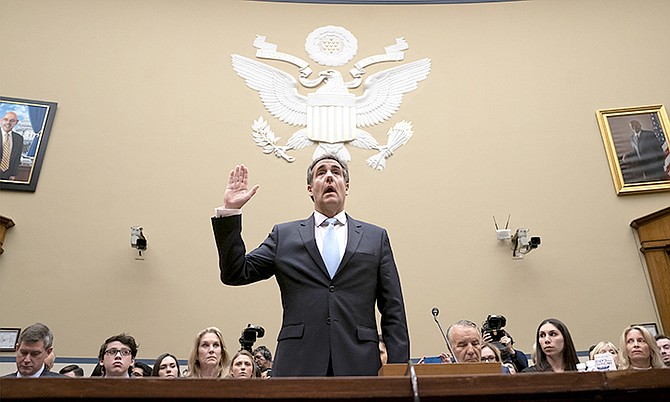 By Malcolm Strachan
TESTIMONY given by Michael Cohen - former attorney of US President Donald Trump – took over American media last. With impeachment becoming a possibility, yet still a rarity in American politics, many are on the edge of their seat.
President Donald Trump's presidency has been highlighted by divisiveness and oppression of people of colour – having a striking resemblance to the hate and violence displayed towards people of colour during the civil rights era. The US, in some ways, looks as if it jumped in a time machine and turned the dial back half a century.
House Oversight Committee chair Elijah Cummings made a chilling statement to those present at the Cohen testimony during his closing commentary. "We are better than this," he said.
In many ways, Cummings, the son of sharecroppers from Virginia, could have been asking a question to those in the room: "We are better than this?"
With the walls potentially falling down around the American president, one must wonder how did they get here to begin with and what can the lessons be?
Certainly, The Bahamas is no stranger to secrecy in politics that often betters the best and worst politicians alike. Perhaps most timely, with former Minister of Education Jerome Fitzgerald's retirement from frontline politics, we are all reminded of his contributions to Bahamian society. Despite any good things he would have accomplished during his tenure, they are overshadowed by his cover-up of the Rubis oil spill and the shameful solicitation of Baha Mar contracts from then-developer Sarkis Izmirlian, all while Fitzgerald was a Cabinet minister in the Christie administration.
Fitzgerald's legacy was torpedoed in the latter instance, with people broadly only recalling these damning revelations as his contributions to Bahamian politics. This undoubtedly speaks to the importance of integrity in politics - when politicians lack integrity, they can bring shame upon a nation.
Former Trump fixer Michael Cohen, a man having lost all dignity in the decade-plus he worked for the US president, is now trying to reclaim some of it back. It is integrity Cohen seems to be seeking to regain after having the responsibility of cleaning up his former boss' "dirty deeds".
Cohen's jaw-dropping testimony dropped bombshell after bombshell, as he gave listeners around the world insight into the shadowy character of the President of The United States. Facing a three-year prison sentence for lies he told to Congress, campaign finance violations and tax evasion – all to provide cover for a man he claimed he once admired – Cohen's testimony most certainly is a cautionary tale for all aspiring to become involved in politics.
It also shows us the importance of having legislation enacting the Freedom of Information, protection of whistleblowers and a system in place to enforce campaign finance laws.
Although the whistleblower provision of the Freedom of Information Act came into effect a year ago, the government still has much work to do in this regard. Nonetheless, we now join a group of countries that have sought to protect those courageous enough to voice wrongdoings in the public service.
The provision states: "No person may be subject to any legal, administrative or employment related sanction, regardless of any breach of a legal or employment-related obligation, for releasing information on wrongdoing, or that which would disclose a serious threat to health, safety or the environment, as long as he acted in good faith and in the reasonable belief that the information was substantially true and disclosed evidence of wrongdoing or a serious threat to health, safety or the environment."
Prime Minister Minnis also promised campaign finance laws will be enacted during this term, but noted it is an "ongoing process" that will not take place overnight - obviously acknowledging all of the moving parts that will be required for it to be successfully implemented.
Attorney General Carl Bethel, echoing the prime minister's sentiments, also indicated that "full implementation is not a one-day experience". He said: "There has to be training at every level in the public service and civil society. Every single government administrator's office, in every Family Island no matter how remote, will have to have an Information Officer who has to be trained."
We must submit both men are right in this instance. However, making this a priority during this administrative term seems more farfetched when considering the amount of resources that are needed from a limited pool. Realistically, we should not be all that surprised if campaign finance continues to become a moving goal post with the government's plate being as full as it is – despite how timely and necessary its enactment may be.
Looking no further than our neighbours to the north and juxtaposing it with the claims of corruption being bandied about today in our country, it is evident we don't have anywhere near what is needed to implement such a system. But we must start somewhere - and the sooner the better.
As opposed to premature campaigning and trading petty jibes with the Opposition leader, a more meaningful use of time would be prioritising these efforts and implementing a system that would allow us to clean up our democracy and avoid the current climate that exists carrying on into the future. Hopefully, the Prime Minister and Attorney General are working earnestly in making these much-needed pillars of a modern democracy realities in The Bahamas.