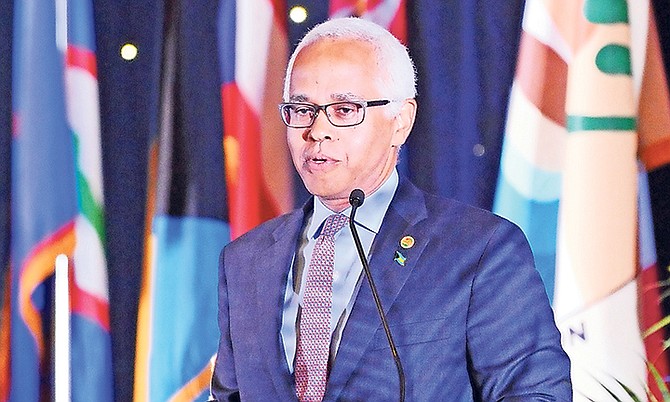 By NEIL HARTNELL
Tribune Business Editor
nhartnell@tribunemedia.net
A key privatisation target's payroll costs now equal 99 percent of revenues, a Cabinet minister has revealed, as he confirmed: "We're trying to outsource as many entities as possible."
Dionisio D'Aguilar, minister of tourism and aviation, told Tribune Business that his ministry was "close to moving" the proposed Nassau Flight Services (NFS) privatisation before Cabinet for a decision on whether to pursue the initiative.
He added that the ministry was "still proceeding with the intent" that the company, which provides ground handling services at Lynden Pindling International Airport (LPIA), will be privatised through selling it to a wholly-owned Bahamian group with the ability to operate it "more efficiently and cost effectively" than the government can.
Mr D'Aguilar indicated that the Nassau Flight Services effort was part of a wider push "to put as many companies (state-owned enterprises) as possible in the hands of the private sector", boosting Bahamian entrepreneurship and wealth creation/distribution while also delivering better value for money and reducing the burden on hard-pressed Bahamian taxpayers.
"We're doing all the necessary groundwork to determine how best to proceed with that matter, putting together the financials and all the documents necessary to facilitate such a sale," Mr D'Aguilar said. 'We're still proceeding with that intent.
"Valuations, financials, requests for proposals; all of that needs to be done. It's proceeding nicely, and ultimately we'll take it to Cabinet for approval. The government is not there yet."
Mr D'Aguilar identified Nassau Flight Services as a prime privatisation candidate during his contribution to the 2017-2018 debate, especially given that the business is of a size that puts it within range of Bahamian investor groups and companies.
Confirming that his thinking is unchanged, the minister told Tribune Business: "It's a relatively small company, with annual revenues in the $8m range, so the government feels it is ripe for privatisation.
"Payroll costs have risen to 99 percent of revenues, so clearly we've not been running it well, and I think it would fulfill the mandate of the Minnis administration, which is to put it in the hands Bahamian business persons.
"The government should not be running these types of businesses. It's small enough that a mid-sized Bahamian company will be willing to take this on, and look for a quality of service and cost the government is unable to achieve.
It is unclear why Nassau Flight Services' costs have soared to the extent that payroll consumes virtually all the company's income, although it recently signed a new industrial agreement with the Airport, Airline and Allied Workers Union, which represents its employees.
However, the fact that just one expense item equals top-line revenues is unlikely to make Nassau Flight Services attractive to potential buyers. Given all the other costs it will incur, this implies Nassau Flight Services is running at a significant loss, as indicated by an annual taxpayer subsidy of around $2m.
This has been trimmed to $1.8m for this year's budget and 2019-2020, but is projected to rise back to $2m in 2020-2021. All told, purchasers will likely have to downsize Nassau Flight Services and/or find new revenue streams - possibly by expanding to other Bahamian airports - given that they will also inherit the existing industrial agreement.
But state-owned enterprises (SOEs) where payroll alone exceeds the entity's income is nothing new for The Bahamas. Tribune Business reported last year how the Bahamas Agricultural and Industrial Corporation's (BAIC) wage bill increased by more than $600,000 over a two-year period to the point where it was equivalent to 141.5 per cent of total operating revenue.
Mr D'Aguilar, meanwhile, said the proposed Nassau Flight Services privatisation was part of the Government's wider efforts to reduce the multi-million dollar taxpayer subsidies that prop up loss-making SOEs. This will involve either finding buyers or private sector managers to take over their operations via a form of public-private partnership (PPP).
'"I think we're trying to put as many companies as possible into the hands of the private sector," he told Tribune Business. "Government feels they will run it more efficiently than we will, and that they will deliver better service at a better price. The taxpayer demands of us better service at a more affordable cost.
"We're going to see what people bid. Let's see what people come in at. We're close to moving it [Nassau Flight Services] forward to the full Cabinet for them to opine on whether it's something they want to proceed with or not based on the information."
Pointing to the PPPs that the Government is looking to enter into for the redevelopment of Nassau's cruise port and several Family Island airports, Mr D'Aguilar reiterated that it was "looking at whatever companies it can to privatise under the belief that the private sector will run it more efficiently and cost effectively for the Bahamian taxpayer".
His comments reflect a strong belief among many that The Bahamas' size of government is too large, and must be reduced together with the burden on Bahamian taxpayers to fund it. The Government has long been urged to "get out of business", with the public sector seen as too involved in owning/running entities best left to the private sector.
K P Turnquest, in unveiling the mid-year budget last week, unveiled an 18-month initiative designed to ensure SOEs deliver "value for money" and enhanced public services given that they are collectively projected to consume $398m - or 15.4 percent of total government spending - in this year's budget.
Robert Myers, the Organisation for Responsible Governance's (ORG) principal, told Tribune Business that the SOE reforms were "long overdue". He said: "I'm glad to hear it. The lack of management and accountability in those sectors is appalling."
Gowon Bowe, the Bahamas Institute of Chartered Accountants (BICA) president, agreed that reducing the burden SOEs impose on Bahamian taxpayers must be a key government objective.
"We have to be very, very focused on removing them as a burden to the public purse," he told this newspaper. "We have, in all areas, an ability to remove these into a competitive framework."
Mr Bowe pointed to the airline sector (Bahamasair), and utilities such as Bahamas Power & Light (BPL) and Water & Sewerage Corporation, as industries where it was possible to introduce competition.
He argued that the Government had often retained 100 percent state ownership as a form of "providing social services", holding prices artificially low to the point of being unable to recover costs.
The BICA chief argued that it should instead follow the model established with VAT, and ensure social assistance was provided to those that need it. "Sometimes they've held the ownership as a way to provide social services," he said.
"The Government should be looking at how to deploy resources to social assistance, rather than running a social initiative. It's far cheaper to get resources to those who need it to support their purchasing power than to run inefficient programmes that cost even more."
The Government has a fitful track record when it comes to privatisation, outsourcing and public-private partnerships (PPPs). Its first such effort was the Bahamas Telecommunications Company (BTC) privatisation, which took some 13-14 years - and covered three different administrations - before it was finally completed in 2011.
Cable & Wireless Communications (CWC) ultimately acquired a majority 51 percent stake in BTC for a purchase price that was ultimately less than the initially-advertised $200m. Its equity holding was reduced to 49 percent in a deal with the Christie administration, and many observers would likely argue the deal has not produced the anticipated commercial benefits for BTC.
The Government has since favoured PPPs, where it either retains full or partial ownership of the underlying asset while bringing in private sector managers to operate them on its behalf. But even here the record has been mixed.
While the arrangements with the Nassau Airport Development Company (NAD) and Arawak Port Development Company for LPIA and the container port, respectively, appear to have enjoyed some success, the outsourcing of Bahamas Power & Light's (BPL) management to PowerSecure was abandoned after just 18 months.
The Government has since sought to separate power generation from distribution via the power plant deal with Shell, a model it has employed in the water industry by placing production in the hands of Consolidated Water and others.
The potential PPP with Global Ports Holding for the Nassau cruise port represents the latest outsourcing effort.