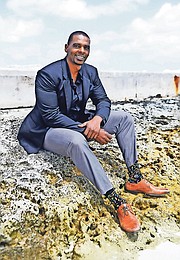 Health coach Ethan Quant, of Elite Wellness Solutions, has succeeded in his weight loss journey and now wants to share his methods with the Bahamas in an effort to foster a culture of wellness and conquer the obesity epidemic.
I remember when I started my health wellness and fitness journey back in 2011, I wasted so much time and money on trial and error, experimenting, learning what worked and what didn't work, finding out the dangerous truth about fad diets and pretty much just fumbling along until I found the key that literally changed my life. That key was the realisation your body is a reflection of your lifestyle and if you want to change your body you have to change your lifestyle.
It was hard and for the most part I struggled by myself with no real support network. If I had the option I would have loved to have the guidance and support of experts who could have helped me on my journey. I know that most of you who are struggling with your health wellness and fitness journeys feel the same way. This is why I am happy to tell you about the Bahamas National Wellness Programme Pilot.
The Bahamas National Wellness Programme Pilot is a health, wellness and fitness initiative that will include a sample of men and women between the ages of 18 and 65 who reside on the island of New Providence. The programme will run for three months, from March 11 to June 19.
The goals for the Bahamas National Wellness Programme Pilot are to educate and equip Bahamians with the knowledge and practical tools to improve their health and overall wellness, and to decrease the country's alarmingly high rate of obesity, as well as NCDs related to obesity.
All you have to do is be willing to actively participate. The programme gives you access to some of the country's leading experts in fitness, nutrition, lifestyle modification and behavioural change, life and financial coaching. You will also get access to weekly fitness classes, weekly wellness education classes, health screenings and assessments and coaching.
I know how hard it was for me to start my health wellness and fitness journey, then find what worked for me, and then stay motivated to continue on the journey. So I want you to ask yourself these questions.
Do you want to continue to struggle with your health and wellness?

Are you happy with not being the best version of yourself?

Do you want to miss this chance to get expert help for free?
If you answered no to any of those questions, please visit www.healthybahamas.org and register. If you have a friend or family member who can use help, tell them to register. This is our chance to start getting the Bahamas healthy. Let's not squander this opportunity.
I lost 110 pounds on my journey, but I didn't just transform my body, I transformed my life and I want you to experience the same. I am one of the health and lifestyle coaches for the programme. I would love to have an opportunity to work with you and your loved ones. So please go and register at www.healthybahamas.org, because a healthy Bahamas starts with you!
• If you need help navigating any part of your health, wellness and fitness process, you can contact Ethan Quant at ethan@elite-wellnesssolutions.com or on Instagram at @ethanquant.