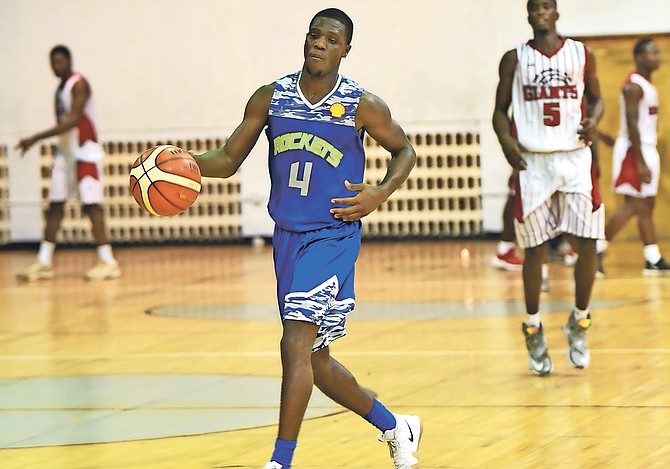 THE Leno Eagles Nest stunned the Aliv Bucket and the Discount Distributors Rockets knocked off the Leno Regulators as the New Providence Basketball Association continued its first round playoffs at the AF Adderley Gymnasium on Wednesday night.
In the division II opener, the Eagles Nest nipped Aliv 80-78 and in the division one feature contest, the Rockets got by the Regulators 88-68 in the first game of their respective best-of-three series.
Game two in both series will be played on Saturday night.
Here's a summary:
Eagles Nest 80,
Aliv Bucket 78
Donte Deveaux exploded for a game high 24 points with six rebounds to pace Leno to their victory.
Alfred Smith came off the bench with 14 points, 12 rebounds and six block shots, Tyrell Butler also came off the bench with 12 points, five rebounds, three assists and two steals and Bradley Altidor also had 11 points, 11 rebounds and four steals.
Dylan Musgrove scored 23 points with four rebounds to lead Aliv Bucket in the loss.
James Rolle had 12 points with five rebounds and as many assists and steals. Kieran Mortimer had 14 points, 12 rebounds and three assists, Detarrio Thompson had 10 points, five rebounds and three assists and Akeil Bullard had eight points, 10 rebounds and two blocks.
Rockets 88,
Regulators 68
Cordero Pinder worked his way inside the paint for a game high 26 points with 13 rebounds to give Discount Distributors the initial lead in their series.
Lerecus Armbrister had 17 points and four assists, Dominique Beadle came off the bench with 14 points, eight rebounds and two steals and Tomeko Moxey also got off the bench with seven points.
In a losing effort for Leno, Kenneth Pratt was the lone player in double figures as he canned 24 points with 15 rebounds and four steals.
Cruz Simon had eight points and nine rebounds, Carlos Thompson had seven points and five assists and Renardo Baillou had six points, 10 rebounds and four blocks, while Hakeem Walkes came off the bench with six points, five assists and four rebounds.
Playoff action continues this weekend. Here's a look at the games on tap:
Tonight
7:30pm - Triple K Stampers
vs Sun Oil Rockets
8:30pm - JD's Seafood
Shockers vs UB Mingoes
Saturday
7:30pm - Leno Eagles Nest
vs Aliv Bucket
8:30pm - Leno Regulators
vs Discount Distributors
Rockets