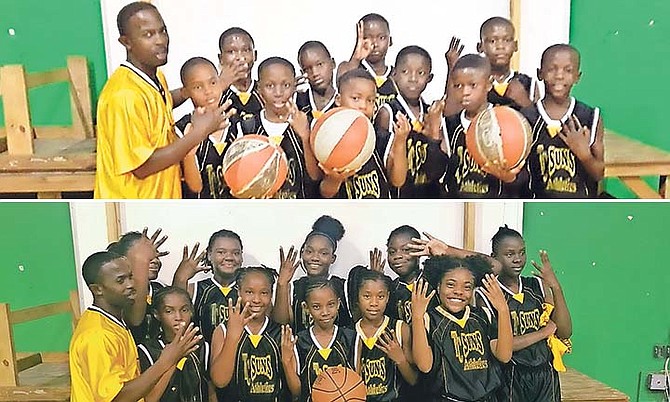 By BRENT STUBBS
Senior Sports Reporter
bstubbs@tribunemedia.net
THE Temple Christian Suns shined once again as their mini-boys and primary girls emerged as champions in the Bahamas Scholastic Sports Association's 2019 basketball season.
As the best-of-three championships were completed last week at the DW Davis Gymnasium, the Suns joined the Teleos Cherubims and the Akhepran Scarabs, who captured the other titles.
Mini Boys
Suns 13,
Comets
Completing their sweep of Queen's College, Zion Thompson and Jahiem Pennerman both scored four points.
Primary Girls
Temple Christian Academy 11,
Hillcrest Academy 9
Terelle McCoy and Azarria Marshall produced four points apiece for the Suns as they wrapped up a sweep of their title.
Lebrinique Demeritte had five in the loss for Hillcrest Academy.
"I felt proud of the teams the way they fought throughout the games, games one and two," said Suns' head coach Keno Demeritte. "It was a battle. I think both teams played with a lot of heart and determination. "Even when the scores got close, both teams played under control and didn't let the pressure get to them. So I just thank God for the opportunity to allow us, especially the girls, to play in four straight championships and to win four straight and mini boys to play in three straight championships and win three straight."
Demeritte said they are developing a dynasty at Temple Christian and he hopes that they can continue the streak for a long time.
Primary Boys
Teleos 29,
Jordan Prince Williams 16
Andrew Bethel canned a game high 11 points to break a 1-1 tie to clinch the title for the Cherubims. Philip Robinson had seven in a losing effort for for the Falcons. After losing the opener, Jordan Prince Williams took game two 14-13 as Condae Smith scored a game high eight. Martino Butler had five in the loss.
Junior Boys
Scarabs 39,
Cherubims 33
Not to be left out of the celebrations, the Scarabs got nine points apiece from Jordan Gibson and Ralfie Maddius as they swept aside Teleos, who had a game high 14 from Ricardo Riley in a losing effort.
Intermediate Boys
Teleos Christian Academy 40,
San Pedros International School 30
Shemar Wallace exploded for a game high 23 points to lead the Cherubims as they finished off their opponents in two straight games. Omarion Wallace scored 13 in a losing effort.
Senior Boys
Teleos Christian Academy 46,
Zion Christian Academy 37
Chadrack Gilles' game high 12 points was enough to lift the Cherubims to victory as they won the series 2-1 over Zion Academy, who had 11 in a losing effort from Mark Charles.
After losing the opener, Teleos Academy took game two 55-44 to even the series. In that game, Gilles canned a game high 18 and Clive Knight Jr had 13 in a losing effort.
Teleos Academy started the championship run with their senior girls sweeping Freedom Baptist Academy in two straight games.