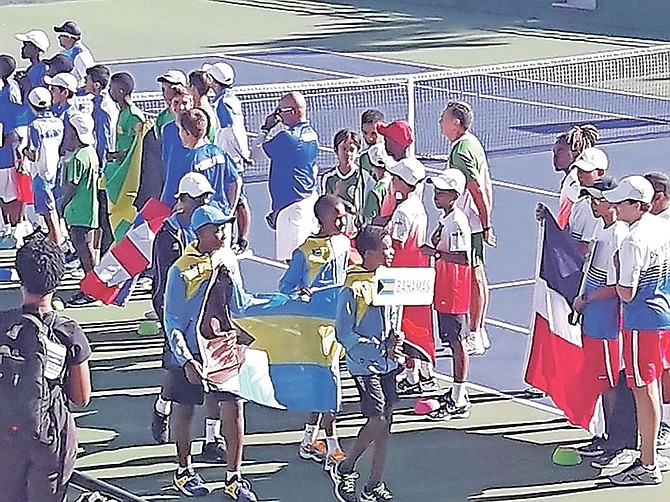 IT was a tough fight for our top junior tennis players on day one of the World Juniors Under-14 Tennis Championships in Santo Domingo, Dominican Republic.
Team Bahamas members, coach Godfrey Bowe and players Anthony Burrows Jr, Michael Major Jr and Dentry Mortimer Jr, paraded through the opening ceremonies at the Centro Nacional de Tenis, Parque del Estein, on Monday.
Burrows Jr, Major Jr and Mortimer Jr are the top ranked players in the Bahamas in the under-14 division and are proudly displaying their skills amongst some of the best in the Caribbean region.
The Bahamas played Costa Rica but lost in singles matches.
Burrows Jr was up first against Arayer of Costa Rica. He played hard but lost 2-6, 3-6.
Major Jr was up next against Quiros.
He won the first set convincingly 2-6, and lost the second and third sets 4-6, 2-6.
In the doubles matchup, the Bahamas' duo of Burrows Jr and Mortimer Jr fought but lost to Costa Rica 6-7 (6), 3-6.
The team is playing in a round robin and will have another chance against the top ranked country in their pool, Trinidad and Tobago, who is seeded 4th in the competition.
"We know that this talented trio of Anthony, Michael and Dentry will do well," said the BLTA in a press release earlier this week.